How to Select a Credible Online Reputation Management Service
People around the world conduct an estimated 1.2 trillion searches every year on Google—and you can expect this already staggering figure to continue to increase. Many searches are geared towards names, personal brands, or businesses, and if your digital and online reputation is less than stellar, you could be in trouble.
To do a quick assessment of your reputation on the web, conduct a Google search now for your personal brand or company. Are the first two pages dominated by negative news stories on popular publications like the New York Times, Washington Post, or Chicago Tribune? Are your rivals and competitors posting nasty stories about you or your business? Do review sites like Consumer Affairs or Trustpilot Pilot tilt unfairly against your company's products and services?
If you answered yes to any of these questions, you need to enlist the services of a credible online reputation management company. To find the one that best suits your needs, there are a few things you'll want to consider.
Past Success Running Online Reputation Management Campaigns
Before signing on with a prospective online reputation management service provider, you'll want to evaluate past successes they've delivered for clients. Ask for case studies, work portfolios, and specific details regarding their methodology for tackling online reputation issues using sound SEO tactics.
Can the service provider highlight any major ranking wins for a positive piece of content targeting your brand or business? Online reputation management is largely the practice of elevating owned or positive content above less desirable content in search results.
At REQ, we leverage SEO strategies and tactics to influence rankings in search results and we monitor these rankings on a daily basis for our clients. For instance, by adding some additional quality copy to a client's Crunchbase profile, we noticed an immediate positive movement in the ranking of the Crunchbase profile for searches on our client's brand name.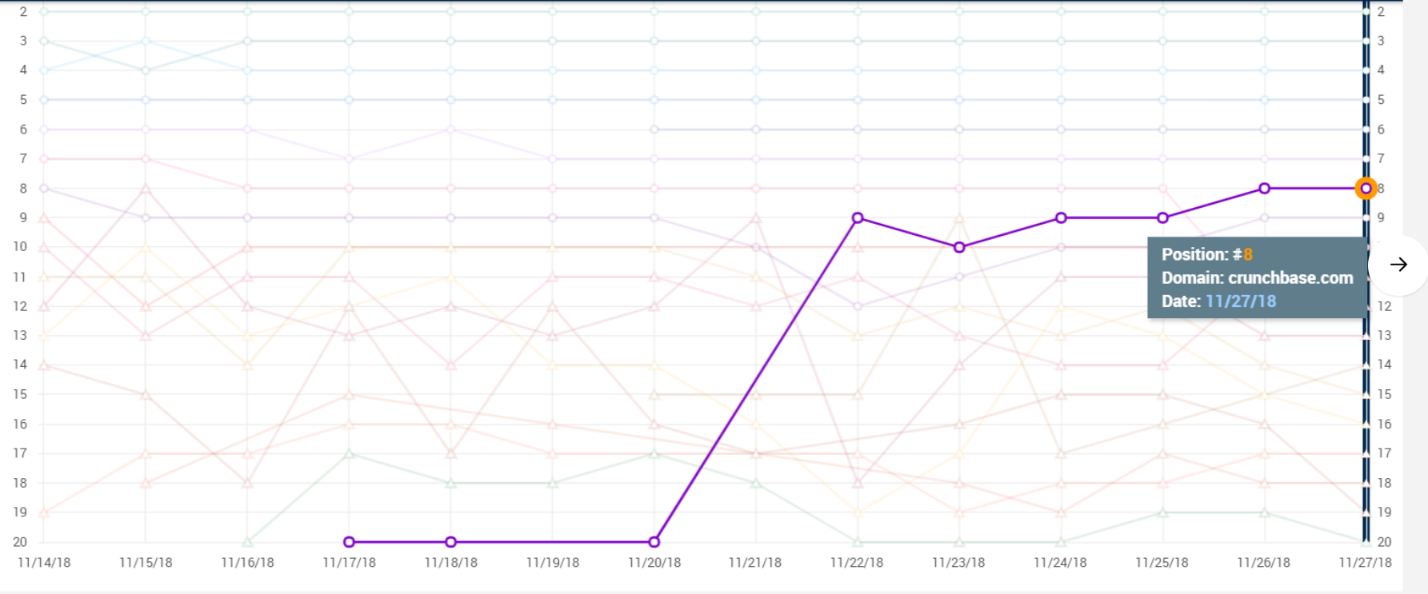 Tools Used to Monitor and Manage Clients' Online Reputations
Without an arsenal of in-house and industry leading SEO tools, it is very difficult to manage anyone's online reputation. At the bare minimum, a prospective online reputation management service provider should have access to tools that:
Monitor rankings, nationally and locally, for specific keywords important to you and/or your business
Routinely track web mentions of your name and/or company
Evaluate your brand's reputation on social media sites like Facebook, Twitter, and LinkedIn
At REQ, we use a variety of critical brand mention monitoring tools, including Google Alerts and SEMRush's robust monitoring tool, to identify both new positive, negative, and neutral articles targeting a client. The strategy then becomes elevating the positive content and owned profiles up in the search rankings and using these as a line of defense against negative content or content that our client does not own.
Going even further, REQ has developed proprietary in-house tools that provide our clients an easily digestible snapshot of the progress of their ORM campaigns and improvements across different search engines, including Google, Yahoo, and Bing.
Staying on the Cutting Edge of SEO & Google Algorithm Updates
Google's algorithm updates often, usually to combat web spam and ensure that search results maintain a high degree of quality and accuracy. For instance, Google implemented a broad core algorithm update in March 2019 that impacted a significant portion of organic search results.
Before selecting an online reputation management service provider, ask about their knowledge of recent Google algorithm updates and any developments in the field, often relayed by John Mueller, Senior Webmaster Trends Analyst at Google. Ask if the ORM service provider has an up-to-date digital marketing blog that addresses breaking stories in the field.

At REQ, our team and leadership blog routinely, attend marketing summits, and post articles about digital reputation on publications like Forbes.
Interested in learning more about our online reputation management offering? Reach out to us at: sales [at] req.co (subject: ORM%20Inquiry%20from%20Your%20Blog%20Post) (sales[at]req[dot]co)