Careers
We believe a good idea can come from anyone, and that listening sharpens our ability to connect with audiences.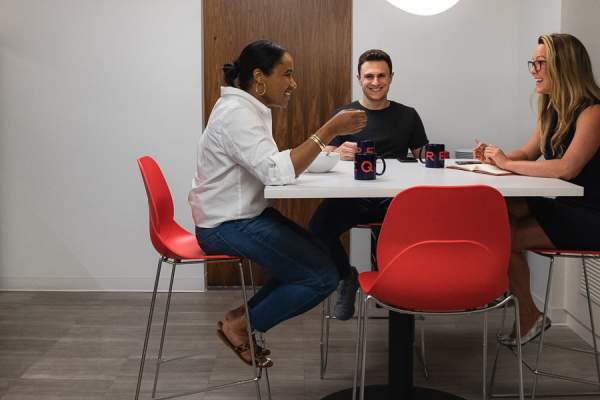 We are strategic thinkers, world-class designers, and writers. We are skilled search engine optimizers, public relations professionals, analytical advertisers, and creative coders, developing everything from marketing campaigns to enterprise technology. 
A love of design, a passion for language, and a profound respect for diverse backgrounds and perspectives live at the heart of how we work each day. We celebrate learning and give the teachers among us a platform to share their knowledge.
In 2023, REQ was acquired by Trinity Hunt Partners and became a member of Agital, a group of companies dedicated to building the marketing company of the future – one that focuses on sustainable growth and helping companies advance in the ever-changing media landscape. Learn more about Agital and its mission.
Create the future of digital marketing.
We are intentional about cultivating a positive workplace culture that values people and ideas. 
A culture of collaboration.
We find inspiration in our diverse experiences and take joy in our collaborative, creative process.
"Everyone here is valued for their individuality and celebrated for their ability. REQ gives me the chance to be creative every single day, and I love working with talented people who share a passion for the digital space." 

Senior Content Strategist

"REQ provides an entrepreneurial environment where every person is appreciated and ideas can come from anywhere. Employees have the unique opportunity to work across a range of clients and industries, including many high-profile brands. The learning curve is steep but rewarding."

"It's the best feeling in the world to find a group of people you want to work with every day, every year. Because agency-work is ever changing, it's really awesome to have a crew alongside you that loves to get the job done and have fun doing it."

"REQ has given me a unique opportunity and the support to chart my own career path. The company is comprised of a great group of people who value outside-the-box thinking and are always willing to step up and help each other. REQ thrives off the creative thinking and ideas each individual employee brings to the table and it's given me an enormous amount of autonomy to create."