The State of Search: Major Algorithm Update Rumors
Search results experienced significant volatility throughout February. Although Google has not confirmed the occurrence(s) of an algorithm update(s), sensors reported turbulence that resembles that of a major update: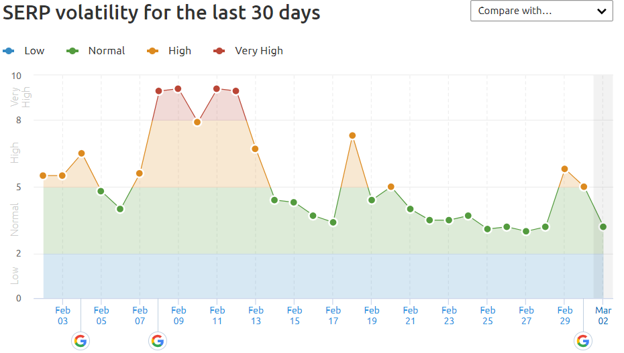 Sites that saw improvements last month fell into one of the following categories: Your money your life (YMYL), eCommerce, food bloggers, travel, technology, and pets. Sites that saw declines included food bloggers, gambling, affiliate, and YMYL. 
A representative from Google responded to questions around the possibility of a February update by reminding users that Google continuously rolls out changes and reiterating that only algorithm updates when there is "actionable guidance to follow"—i.e. the Speed Update and broad core updates—are publicly shared.
What this means for you
We are in the process of gathering data to help form conclusions around the fluctuations that took place in February. REQ will continue to analyze changes in client and competitor rankings.