The State of Search: Exploring Google's Data Indexing Glitch
There were no confirmed Google algorithm updates in August. However, it was still an exciting month for search marketers between indexing glitches, SERP fluctuations, and Google product updates.
August 10th - Members of the SEO community originally thought a major Google algorithm update had occurred as many sites experienced losses in rankings, but it was, in fact, a glitch in Google's system. Google took to Twitter to confirm that the search engine was experiencing indexing issues that were quickly addressed: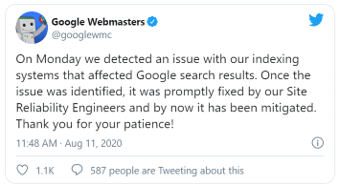 August 15th to 16th - Sensors reported high volatility in the SERPs over these two days. Similar to August 10th, there were temporary shifts in search rankings. Google has not commented on the fluctuations but it's possible that another glitch may have occurred. 
August 17th - Many search marketers reported significant changes in the search results and speculated about a possible Google algorithm update during this time. However, Google has not confirmed the occurrence of an update: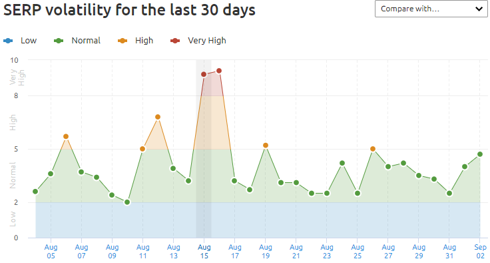 On this same day, Google announced that they rolled out a new experience to beta testers called Search Console Insights which will help content creators and publishers better understand how users discover their site's content and what resonates with them. According to Google, the data shared in Search Console Insights will help us make informed decisions to improve our sites' content. 
SEO Tips from Google's John Mueller:
Word count is not a ranking factor and more words is not indicative of higher quality content.
The SEO effect of keywords in the URL is minimal once the content is indexed. Make URLs that work for your users, not for SEO.
Affiliate links won't hurt your site's ability to rank as Google can usually recognize them and treat them as nofollow. Producing quality content is more important than having affiliate links.
Don't ignore your title tags. Title elements play an important role in search, especially when it comes to what is shown to users.
Changing your site's URLs is similar to a site migration in terms of implementation and the risks involved. Make sure the previous URLs are redirected to their new URL versions.
What this means for you
We are in the process of analyzing the possible Google algorithm update that took place on August 17th and will report on significant findings as we review changes experienced by your site and competitor sites. While evaluating Google Analytics and search ranking data for the month of August, keep in mind Google's indexing glitch that occurred earlier in the month as it may have skewed the data.