The State of Search: July 2020 Fluctuations
There were no confirmed Google algorithm updates in July. However, significant fluctuations were experienced in the search results from July 23 to July 24, followed by a slightly smaller spike on July 31, as displayed in the graph below.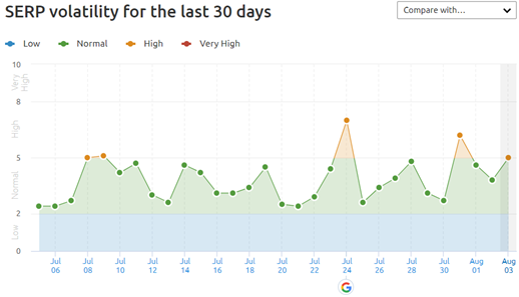 While members of the SEO community reported decreases in organic positions and speculated about a possible update during this time, it is too early to determine whether the activity is indicative of a Google algorithm update. It's important to note that Google continuously makes changes to its algorithm to improve results and provide better user experiences. When evaluating major drops in organic search performance, webmasters should also consider factors beyond a possible algorithm update. For example, seasonality, site redesign or migration, COVID-19, etc.

Representatives from Google commented on the importance of page load times and inbound links, according to ranking criteria:
Google's Developer Advocate, Martin Splitt stated that faster loading pages won't typically outrank pages that may be slower, but more relevant. To improve speed, he recommended that SEO professionals focus on lazy loading, which delays below-the-fold images from loading until a user scrolls.
Over the course of the month, John Mueller also emphasized that links are "definitely" not the most important ranking factor and signaled that content is more important. 
What this means for you
Despite a fairly quiet month for Google, our teams continue to track industry updates for insights that we may apply to your program