The State of Search: Confirmed (and Unconfirmed) Algorithm Updates
Anti-spam Update (Confirmed) - On November 3, Google released a new version of its Anti-spam Update which targets low-quality and spammy sites that try to steal users' information. The rollout was completed on November 11.
November 2021 Core Update (Confirmed) - Google announced the release of a broad-core update on November 17 which finished rolling out on November 30. Significant changes in the search results were felt almost immediately and reported by our tracking tools. Early observations found this update to have a large impact on sites falling within the news, finance, health, travel, and eCommerce industries. As with previous core updates, Google's guidance remains the same in that there is nothing to fix if your site was negatively impacted: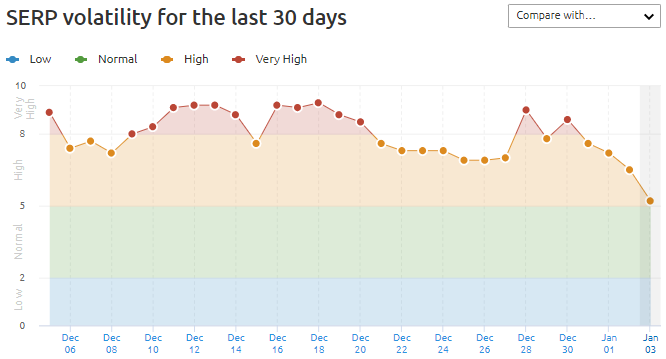 Knowledge Graph Update (Unconfirmed) - Coinciding with the release of the November 2021 Core Update and potentially related, volatility was reported in Google knowledge graphs indicating the possible occurrence of a knowledge graph update. 
Google News & Tips
Video - Google updated its SEO guide for video best practices to recommend placing video content prominently on dedicated site pages to perform better in search. 
Content - For an added SEO benefit, Google recommends bolding important phrases on site pages to help the search engine better understand what the page is about. More specifically, identify content on the page that a user is likely looking for when visiting that page and bold it.
Reviews - According to Google's updated GMB review guidelines, a mix of positive and negative reviews are viewed as more "trustworthy" by Google versus all positive reviews.
Page Speed - Google launched an updated version of its PageSpeed Insights tool in an effort to make the report data easier to understand.