The State of Search: Quality Rater's Guidelines Update
During the month of October, Google released an updated version of its Quality Rater's Guidelines (QRG)—a comprehensive document detailing how Google determines page quality. Some of the more significant changes further specify what Google considers low-quality website content and clarified the information for researching a site's reputation. An overview of Google's QRG can be found here.
Potential Google Algorithm Updates
October 2 – According to our tracking tools, a significant, unconfirmed update may have occurred with volatility similar to a core update.
October 26 – While not to the same extent as earlier in the month, our sensors reported above-average fluctuations in the search results, indicating another possible update.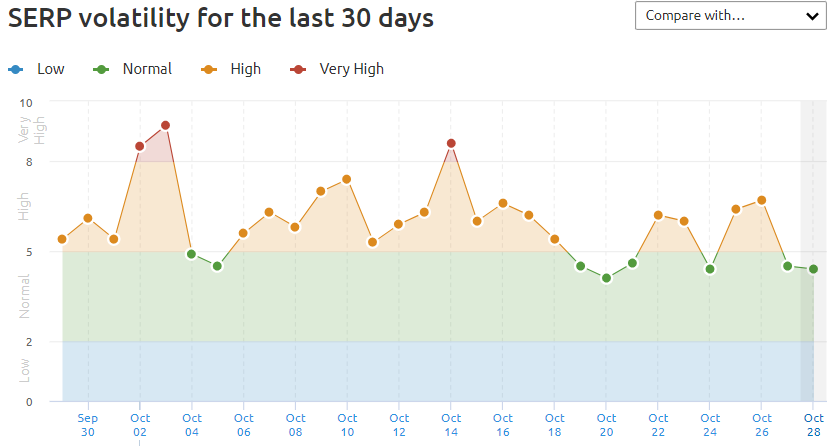 Google News & Tips
Rich Results Status Reports - Google Search Console added more information to some of the errors identified in the Rich Results status reports to help webmasters better understand how to solve these issues.  
Google Analytics Bug - On October 18, Google Analytics experienced an outage. Google was unable to recover the data loss which may lead to slightly skewed reports. 
Infinite Scroll - Mid-month, Google announced that it was introducing infinite scroll to mobile search for most English searches in the United States. This new feature will not impact reporting or position rankings in Google Search Console.  
What This Means for You
Google's commitment to displaying quality content and sites in the search results is not new. At REQ, we emphasize the importance of quality over quantity and publishing engaging, valuable content that offers an excellent user experience. We will review Google's updated QRG at length to ensure our clients' sites adhere. Any new, relevant findings will be applied to our SEO strategies to further improve the quality of these sites.