The State of Search: Algorithm Updates to Finish 2021
Algorithm Updates
December 1 - Google released its second Google Product Reviews Update of the year (the first occurred in April). The update took three weeks to roll out and, while it was launched globally, it currently only impacts English-language pages. With this update, Google aims to reward more comprehensive, well-researched product reviews that include original video and/or image content over thinner, less useful product reviews. Google stated that the overall focus is on "...providing users with content that provides insightful analysis and original research, content written by experts or enthusiasts who know the topic well." 
December 8 - The November 2021 local search update (which began November 30th) concluded on December 8th. The update focused on rebalancing the weight of the factors impacting local search and improving how Google generates local search results. 
December 9 to 11 - Significant fluctuations in Google's knowledge graphs were reported by our sensors around this date and shortly after, leading us to believe that another knowledge graph update may have occurred.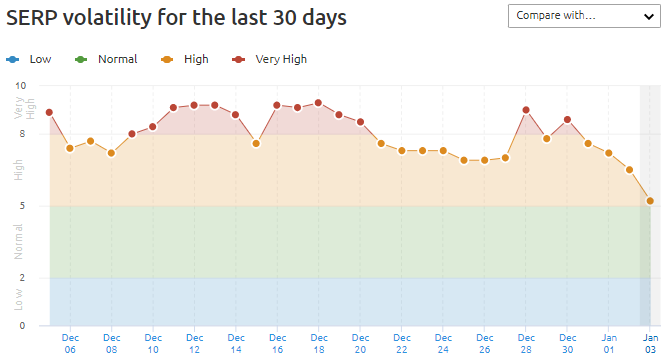 Google News and Tips
Backlinks - Google recommends that you "Don't focus on the number of links, it's not a useful metric." This is a good reminder to strive for quality over quantity when it comes to backlinks.
Google Business Profiles - Hotels and hospitality Google Business Profiles (formerly known as Google My Business) can now leverage Google posts, as detailed here.
What This Means for You 
December was an active month for Google algorithm updates leading to significant volatility across industries. When updates coincide with the end-of-year holiday season, it can be even more challenging for site owners to determine where to attribute changes in organic rankings and traffic. 
As you review December data and reports, keep in mind that seasonality plays a major role in fluctuations–both positive and negative–and all cannot be attributed to Google algorithm updates alone.