The State of Search: Page Experience Update
Google Algorithm Updates
Our algorithm sensors reported significant changes in the mobile and desktop search results throughout the month of February with major spikes occurring on February 6, 8, 19, and 25. The industries that experienced the most volatility during this time included entertainment, news, shopping, sports, internet, and telecom. While Google's Page Experience update was released to desktop on February 22, no other algorithm updates were confirmed by the search engine this month.
Desktop: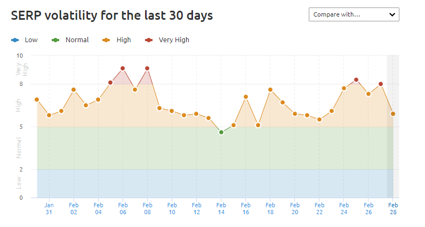 Mobile: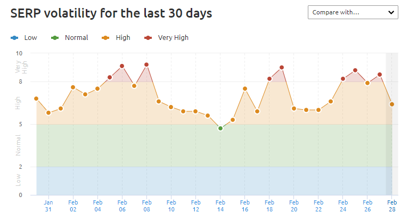 Google News & Tips 
Data Outages - Google Search Console reported a performance logging issue from February 1-3 which may lead to discrepancies in performance data during this time.
Internal Search Results - Google recommends blocking internal search results from Google's index to avoid unnecessary crawling and indexing. 
Featured Snippets - If a site suddenly loses its featured snippet, it may have to do with the quality of the page's content and, in turn, Google finding better content on another site to display in its place.
Google & AI - Learn how Google leverages artificial intelligence to serve better results in this recent blog post. 
What This Means for You
February has seen a lot of movement in the search results and while some SEOs have accredited this to the latest desktop page experience update, Google has stated in the past that page experience only accounts for a small ranking factor in its algorithm. Furthermore, a site with high page experience scores will be outperformed by a site with lower page experience scores but higher quality content. While page experience should not be discredited, Google strongly prioritizes the quality of the content it chooses to rank in the top search positions. 
In addition to taking measures to improve site performance as the page experience update rolls out on desktop, we will continue to evaluate and compare the content ranking above our client sites for target keywords to identify content gaps and opportunities to improve overall page quality.