The State of Search: October 2020 Mobile Indexing Problems
Our tools identified a significant amount of movement in the search results throughout the month of October: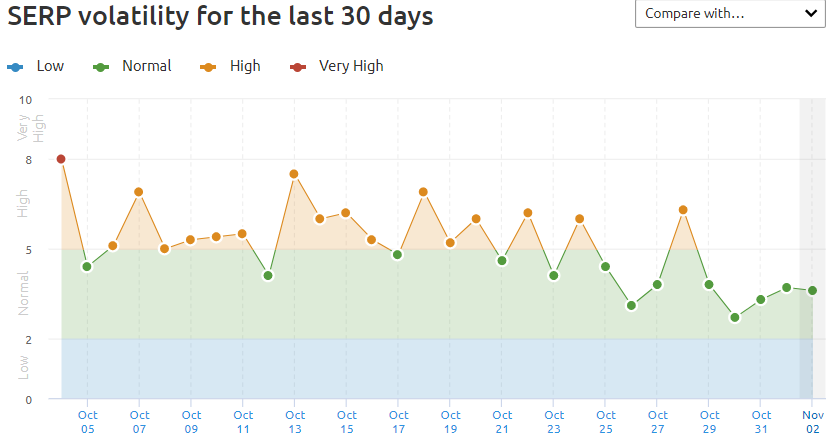 An algorithm update was not confirmed, but Google announced that it was experiencing issues with mobile indexing and canonicalization in the first week of October. Both issues led to deindexing and likely contributed to the SERP volatility. On October 9th, Google announced on Twitter that the mobile indexing issue was 99% resolved. The canonicalization issue was not fully addressed until October 19th: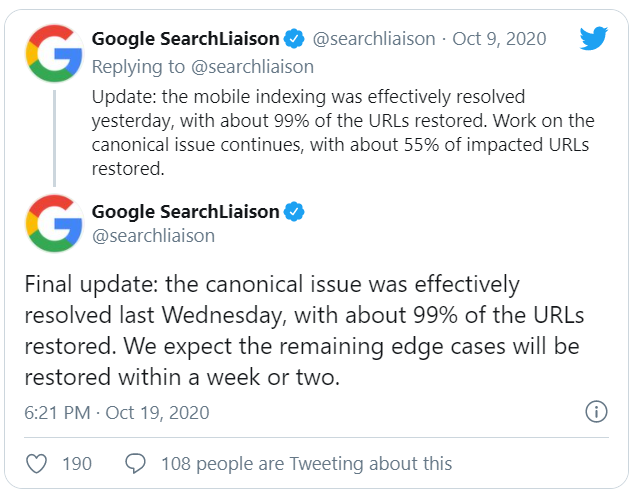 Google Tips & Updates
BERT - Last year, Google shared that the neural network-based technique for natural language processing, BERT (Bidirectional Encoder Representations from Transformers), was being used in 1 out of 10 searches. Now, BERT is being used in every English search made in Google. As a reminder, BERT helps Google better understand the intent and context of searchers' queries. 
Request Indexing - Google has temporarily disabled the "Request Indexing" feature in Google Search Console which enabled site owners to submit site pages directly to Google for indexing. This feature is expected to return in the coming weeks.
Google Analytics 4 - The latest iteration of Google Analytics was announced this month. Learn about its new predictive marketing features, here.
Black Friday/Cyber Monday - If you plan on hosting Black Friday and or Cyber Monday events (i.e. eCommerce sales), review Google's recent blog post sharing tips on how to best prepare your site.
Meta Noindex Tags - In a recent Q&A, Google shared that noindex tags should not be used as an on or off switch for URLs. In fact, if a page has a noindex tag for an extended period of time, Google may treat the page as a 404 error. As a result, Google still may not crawl and index the page once the noindex tag is removed.
What this means for you
When reviewing October performance, keep in mind that Google's indexing and canonical issues may have skewed your site's data negatively if your site was directly impacted, or positively if competitor sites were impacted. These issues have been resolved, but site owners should review the coverage report in Google Search Console to ensure proper indexing. Additionally, without the 'Request Indexing' feature, keep your XML sitemaps current and re-submit them to GSC if changes are made to your site.