The State of Search: June 2021 Core Update
June has been an active month for Google algorithm updates which has led to significant fluctuations in the search results across industries:
June 2 - The June 2021 Core Update was released which will be followed shortly by the July 2021 update according to the search engine. Early analysis indicates that Google may have adjusted its understanding of intent with this update.
June 12 - The June 2021 Core Update finished rolling out.
Jun 16 - Google's Page Experience Update–think Core Web Vitals–began rolling out and will be completed by the end of August. 
June 23 - The first part of Google's Anti-Spam Update was released to help de-index malicious, low-quality sites looking to steal users' personal information or install harmful software onto their devices. 
June 28 - Rollout of the second part of Google's Anti-Spam Update took place. Learn more about how Google fights spam, here.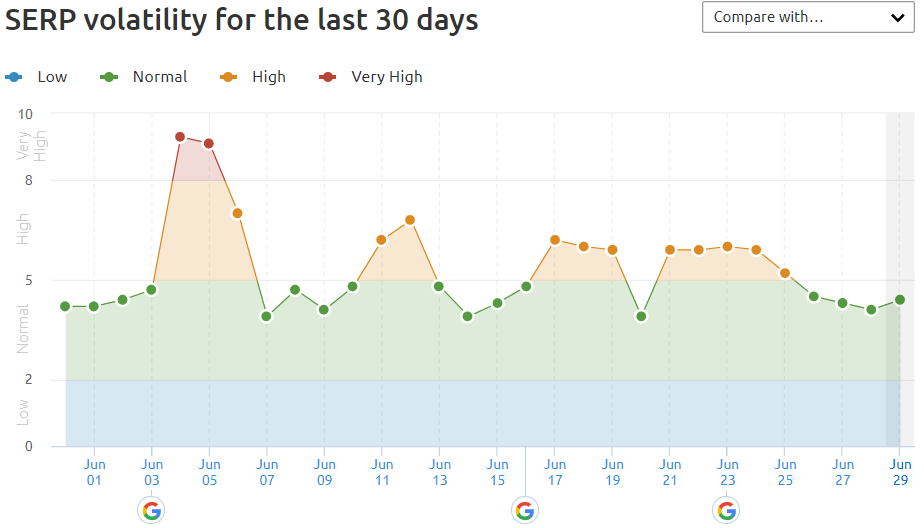 Google News & Tips 
Google launched its Digital Essentials Guide to help small businesses succeed online.
Google My Business is beginning to allow users to manage their Google Posts, Services Offerings, Takeout/Delivery Options, and Automatic Product Inventory Display, directly in search when logged in.
Include some unique content above the fold area of your site pages to help Google better understand what the page is about. 
What This Means for You
We are in the process of analyzing the June 2021 Core Update and will report on significant findings as we monitor fluctuations experienced by your site and competitor sites. While significant changes are expected and common after a core update, don't be alarmed if your site was negatively impacted following the June 2021 Core Update. We may see Google roll back some of its algorithm changes with its July 2021 update set to take place this month. During this time, we recommend reviewing Google's guidance on broad core updates and closely evaluating keywords lost to help determine if they were due to a lack of relevance or if the content quality is lacking based on what Google is currently ranking in the search results for those keywords.