The State of Search: Relevancy
Algorithm monitoring tools reported turbulence in the search results from May 13 to 16 and even higher volatility on May 22, suggesting the possibility of a significant--yet unconfirmed--Google algorithm update: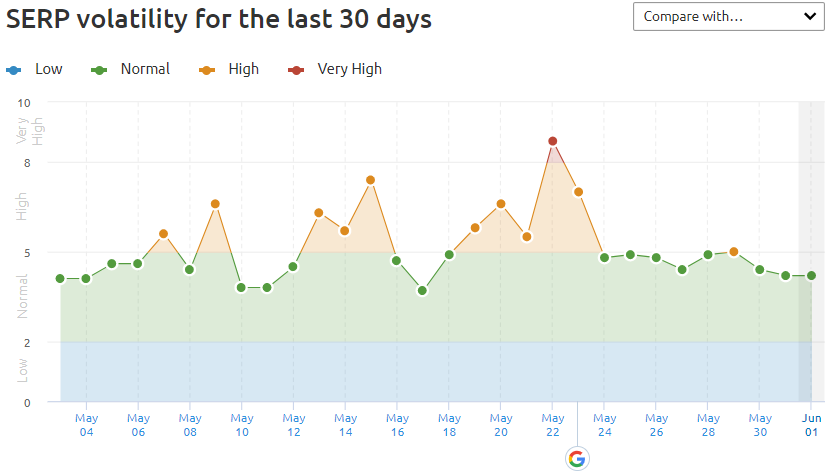 When questioned whether an update took place, a Google representative indicated that small algorithm updates are being made all the time that can contribute to fluctuations. Early observations taken from our clients' sites point to Google once again focusing on relevancy. However, members of the SEO community also reported major changes in Google Knowledge Graphs which may have contributed to the turbulence reported by tools. 
Google News & Tips
Content - "If your pages have information that is commonly found on many sites, in order for Google to want to rank it, you need to find a way to add substantial value above competitors." When creating content for your site, remember to go beyond what has already been repeatedly published online.
Citation Links - In a recent Google hangout, Google recommended making citation links dofollow rather than nofollow links.
Noindex - When you noindex a page, you do in fact lose the equity of the links pointing to that particular page. Review a page's backlinks prior to noindexing.
Schema - While not a ranking factor, schema can help search engines understand important entity information for your business which speaks to a site's E-A-T. Be sure to include schema on your site where relevant.
What This Means for You
We are in the process of analyzing the possible Google algorithm update that took place and will report on significant findings as we monitor fluctuations experienced by your site and competitor sites, specifically changes in the search landscapes of keyword rankings lost. During this time, we recommend reviewing Google's Quality Raters' Guidelines and looking for additional opportunities to further demonstrate E-A-T signals across sites.