The State of Search: Confirmed Product Reviews Update
Algorithm Updates
Possible Algorithm Update (unconfirmed)
Our algorithm sensors detected higher than usual volatility in the search results around March 18-20 in line with that of a significant Google algorithm update. When questioned on Twitter, a Google search representative stated that he was unaware of a "broad, major update" occurring and reminded the SEO community that regular algorithm updates take place all the time.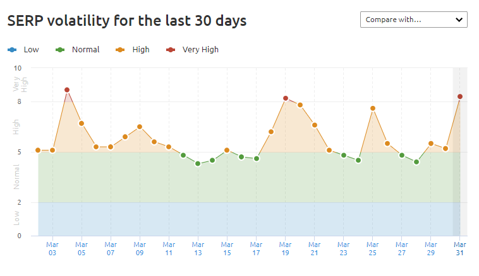 Google announced the release of a third product reviews update which began rolling out on March 23. This update looks to highlight reviews that demonstrate first-hand knowledge and expertise of the product. For example, how to use the product, pros and cons of the product, how it compares to similar products, and so forth. A Google representative clarified that this update was not connected to the fluctuations experienced in the search results the week prior to its release.
Google News & Tips
Page Experience Update - Google announced that its Page Experience update for desktop that was released in February has finished rolling out at the end of March.
SERP Features - New Google SERP features, "refine this search" and "broaden this search", are now live in US search results. These features enable users to get more specific on a topic or zoom out to more general information while searching. 
Google Analytics 4 - Google announced that it will be sunsetting the Universal Analytics properties in favor of the next generation, Google Analytics 4 (GA4), on July 1, 2023. 
Indexing & Quality - If you are having trouble getting your site's pages indexed, you may be dealing with an overall site quality issue.  
eCommerce - Improving the quality of reviews and highlighting them on your site can help improve the quality of your eCommerce site. 
What This Means For You
While an unconfirmed algorithm update may have taken place, it's also important to consider the impact of seasonality – think Spring break – which can contribute to major fluctuations and changes in user behavior across industries. We will continue to closely monitor client sites and those of competitors and will report on major changes in organic rankings and traffic.
The switch to GA4 proposes more customization options for reporting and improved visibility into site engagement. Google has provided best practices for migrating to GA4 and recommends creating new profiles for sites that have not already done so to allow traffic data to be captured for over a year leading up to the July 2023 cutoff date. Additional recommendations include archiving historical data as it will no be longer accessible once the Universal Analytics platform is turned off.