Holistic Marketing Strategies for Long-Term SEO Results
When I tell people I do SEO, I usually get a response like this:
Them: "Oh, so you put keywords on websites?"
Me: "Yes and no. But mostly no."
Even within the marketing industry, many people still expect SEO to be like a Band-Aid.
Them: "Organic traffic is down. We need you to wave your SEO magic wand and fix it."
Me: "Sorry, my SEO magic wand was stolen by a dodo bird, which was then eaten by a dinosaur."
To have excellent SEO, a site also needs excellence in many other disciplines: web development, web design, content, UX, data analysis, CRO, etc. An "SEO Problem" (drop in rankings and organic traffic) is not just an "SEO Problem." A holistic strategy is necessary for your SEO strategy to succeed long-term.
YES, there is still value in traditional SEO solutions: keyword mapping, on-page optimization, earning backlinks, fixing technical issues on a site, etc. But these tactics should be a part of a larger strategy that looks beyond traditional ranking factors (title tags, H1s, alt text, anchor text, backlinks, etc.)
It can be exhausting to constantly chase after Google's algorithm. There's no way to make your site algorithm-proof, but there are a few holistic strategies to make your site better prepared for long-term SEO success.
1. Inbound Marketing 
According to Hubspot, "Inbound marketing is a business methodology that attracts customers by creating valuable content and experiences tailored to them. While outbound marketing interrupts your audience with content they don't want, inbound marketing forms connections they're looking for and solves problems they already have."
Why is an inbound marketing strategy important for SEO?
Since Google puts the user first, our strategies need to put users first as well.
In terms of organic rankings, Google rewards sites with the content and experience that users want. A website with mostly sales-heavy content is going to have a hard time ranking well for high competition keywords because Google knows that is not the type of content users want.
[Yes, sales information is still important. Have sales content on product pages that users can navigate to when they are ready to buy. Don't write blog posts about "40 Reasons Why You Should Buy My Product Now."]
Here are a few ways to develop a more inbound-friendly strategy: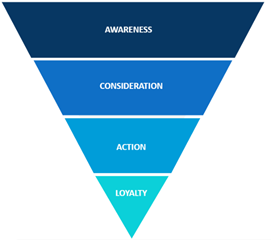 Understand your audience and the stages of the buyer's journey (the stages may look different for different products or services sold on the same site)

Know what questions users ask & objections they have at each stage of the journey

Create content that answers their questions and resolves objections (without being overtly salesy)

Organize content on the site in a way that guides users through the buyer's journey
Doing this provides value and builds trust with your audience. Additionally, Google rewards sites that have user-centric content.
2. E-A-T: Expertise, Authoritativeness, Trustworthiness
This is a concept Google talks about in their Quality Rater Guidelines.
Expertise, authoritativeness, and trustworthiness are important for all sites, but especially for sites that deal with medical, financial, or legal advice (AKA "YMYL" sites – Your Money or Your Life). This makes sense, right? If you search for "how to treat a flesh wound," you'd rather get advice from a medically-backed site than from a quack.
Think of it as Google hiring for a #1 position, and these are some of the questions in the job interview:
"Who are you?"

"Why should I hire you for my #1 position?"  

"Got any research to back up your claims?" 

"How about some references?"

"What do other experts think about you?"

"Why should I trust you?" 
Here are a few ways to improve your site's E-A-T:
Link to authoritative research

Conduct and publish original research

Improve design and UX, fixing any formatting issues

Update or remove outdated content

Include author biographies for blog content

Have a clear "About Us" section on your site, including any awards, certifications, etc. 
For more ways to improve E-A-T, check out Marie Haynes's thorough research on it.
3. The Secret Weapon
Hint: it's not a Band Aid or an SEO magic wand. 
It's common sense.
Does this page deserve to rank #1?
Russ Jones presented us with this question at MozCon a few months ago. It's common sense, but I was surprised at how this simple question was so impactful.
Here are a series of "common sense" questions to ask yourself: 
Is my website actually providing value to users?

Am I solving for the searcher's intent?

Is this page / website the most…

Accurate

Thorough

Relevant

Up-to-date

Engaging

Well-designed

Authoritative

Well-researched

User-friendly
   ...page on the internet about this topic?
Your honest answers to these questions can often help improve your site!
Sometimes business owners or even marketers are too close to the brand to have an agnostic view. It's always a great idea to get unbiased feedback. Check out Glenn Gabe's article about Google's Core Algorithm Updates and The Power of User Studies.
In Closing
Although traditional SEO is still valuable, we need to look beyond ranking factors and have a holistic strategy to see long-term SEO success.
It's not possible to make your website completely "algorithm-proof."
However, by following inbound marketing best practices, improving E-A-T, and using common sense, these strategies can help you be more prepared.