Holiday 2022 Marketing, Wrapped: What We Saw & What It Means for 2023
While analysts predicted an increase in spend for the 2022 holiday shopping season compared to 2021, our team's data and analysis showed a decrease from 2021, after accounting for inflation, due to constricted and delayed budgets, and lack of economic stimulus. Advertisers were challenged with ensuring campaigns were properly optimized and aimed to launch campaigns as early as possible to capitalize on the "Big 5" shopping weekend: Thanksgiving day through Cyber Monday.
Our paid media team was up to the challenge and we're excited to share our lessons learned and best practices related to holiday season campaign setup, management, and optimizations as we ramp up in 2023.
Social
The key takeaway from managing media on paid social during the holiday shopping season in 2022 was to not wait. Gather campaign learnings as early as possible.
We broke out our campaign insights into four main recommendations.
Establish Foundations
No holiday campaign will be successful without the proper foundation. This meant checking our Account Quality in Meta for any potential ad rejections. A proper QA of event tracking should be done to ensure you're passing back as much data as possible to the ad platforms to properly optimize campaigns. Specifically, implementing Meta Conversions API (cAPI) will create a direct connection between your marketing data and Meta systems to see the most conversion lift. Establishing foundations should be done in the first two weeks of  October.
Need help setting up cAPI? Our Analytics team can help!
Reach Customers Early
From mid-October through mid-November, we focused the majority of our advertising budget towards customer acquisition. With the goal of exiting the learning phase as soon as possible, we learned that testing broad audiences (age / location targeting only) as opposed to more narrow targets (inclusive of specific demographics and interests) was the best way to prepare for the Big 5 weekend launch. This meant driving awareness for upcoming promotions through Reels/Stories (short-form video to keep attention with motion) and In-Stream (long-stream video designed for sound on).
New in 2022 to the Meta advertising suite was Advantage+, which allows for machine learning to optimize campaigns in real-time. This proved to be a low cost way of acquiring new customers. One e-commerce client in the health & wellness industry saw 20% higher ROAS with Advantage+ when compared to all campaign average ROAS during this time period.
Key Tip: Be sure to consistently import new creative assets within Advantage+ campaigns to avoid high frequencies and ad fatigue. Apply a budget cap to existing customers (recommend 30% or lower) and be sure to adjust account settings to include past customer lists and past purchasers via pixel data.
Maximize Purchases
Our key learning here was that it pays to shift the majority of an advertising budget to remarketing efforts. We saw the highest conversion rates from mid-November to mid-December. These high conversion rates were achieved by retargeting website visitors while leveraging first-party custom audiences like social page engagers and video viewers. Dynamic retargeting such as retargeting cart abandoners with collection ads on Facebook / Instagram was a key component to the account structure.
An e-commerce client in the men & women's clothing category saw a 65% increase in revenue from paid social campaign efforts when compared to the previous time period.
Stay Top of Mind in 2023
Looking into 2023, you may be asking yourself: how do we capitalize on all of the traffic and new customers acquired through holiday campaign efforts in 2022? Key takeaways you can activate this year are remarketing to existing customers and building loyalty, specifically through Advantage+ Catalog Ads and shopping custom audiences. Lastly, measuring campaign performance through an A/B test or Brand Survey through Meta Experiments is a great way to learn what works and grow your business.
Display
Managing display media during the 2022 holiday shopping season highlighted the importance of testing audience and creative segmentation, in addition to measuring incremental KPIs to gather a full picture of campaign performance.
Maintaining Tactical Variety
Usually categorized as upper- and mid-funnel, display tactics help influence the shopper journey, rather than being the closing agent for most sales. So, when brands scale down budgets, many reallocate spend to low-funnel tactics to increase "efficiencies", without keeping an eye on incrementality in other KPIs. Faced with increased competition and potential decreases in sales amidst recession concerns, it was vital to maintain a full-funnel approach. We did this by growing our clients' brand visibility while maintaining efficient KPIs.
Based on this, REQ entered Q4 focused on two things: implementing audience and creative tests early on, as well as monitoring additional KPIs to gauge campaign effectiveness. With ecommerce brands, we tested subsets of audiences, such as cart abandoner audiences within differing lookback windows, and applied various creative types to find what worked best for each client. Through trials and optimizations in Q4, our clients saw upwards of a 276% increase in ROAS compared to the previous period despite an increase in ad costs.
We also found that outside of standard ROAS goals, measuring incrementality with KPIs like Cost Per Order can be a good indication of how our segmentation and creative applications are performing, especially in light of rising ad costs. While platforms can't optimize based on dual goals, monitoring supplemental KPIs can provide directional insights to enhance campaigns, and will be especially important for brands in 2023.
Expanding Horizons In 2023
Amidst economic factors and rising ad costs, it's crucial to explore new media types to find channels that are most effective for your business. We recommend testing emerging media early on, such as audio and CTV/OTT, as well as retail media which markets to users at their point of purchase.
One of REQ's programmatic partners, Criteo, surveyed 800+ senior agency professionals in the US and EMEA to get a feel for the development and strengths of various digital channels. Globally, media agency professionals are planning to increase their cross-channel investment to deliver greater ROI.

In addition to expanding your media mix, looking at a range of KPIs is becoming more important as media costs increase. Social media is expected to have the largest hike in costs globally, so while it's vital to monitor revenue growth across mainstay channels, brands are aligning with the importance of customer experience and efficiency with other key metrics like ad frequency and cost-per-order. Incrementality will be a north star for brands in 2023, helping to gauge what tactics best perform in a holistic sense for their business overall.
Search
In paid search, our team saw the impact of recession concerns across both ecommerce and lead gen clients. While our ecommerce partners saw stronger year-over-year performance overall, we identified patterns of buying behavior that were representative of consumers watching their expenses very closely.
We confirmed that consumers are beginning their holiday shopping earlier than past years, taking advantage of Black Friday and Cyber Monday offers and other seasonal sales to ensure they are paying the lowest prices possible. Fewer supply chain challenges, compared to 2021, led to higher availability of products as well as some being overstocked, which was reflected in the holiday deals.
To capitalize on shifting purchasing patterns, the most effective campaign type in Google Ads has by far been the Performance Max campaign,which Google introduced in 2021. These campaigns allow for Google's machine learning and algorithms to optimize our advertisers' budgets and tactics across all of Google's properties based on user behavior and account-specific audience signals, thus maximizing the accounts' potential to convert and drive sales.
REQ Google Ads account rollup by campaign type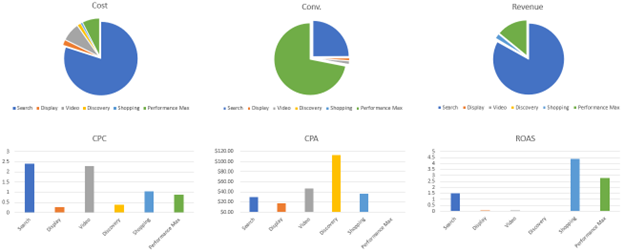 We and our lead gen partners saw prospect volumes decline in certain industries as executives and decision makers finalized advertising budgets and partnerships later, partially due to financial challenges and economic unknowns.
Lastly, to tie it all together, we're seeing an overarching trend in increasing costs-per-click (CPCs) as competition continues to rise and consumers naturally research multiple brands online before making a buying decision. The pandemic certainly reduced the CPC metric, both in terms of  search activity as well as advertiser paid search investment, but take a look at the trend over the past 4 years below. The average CPC is rebounding and our expectation is that the average CPC will continue to increase.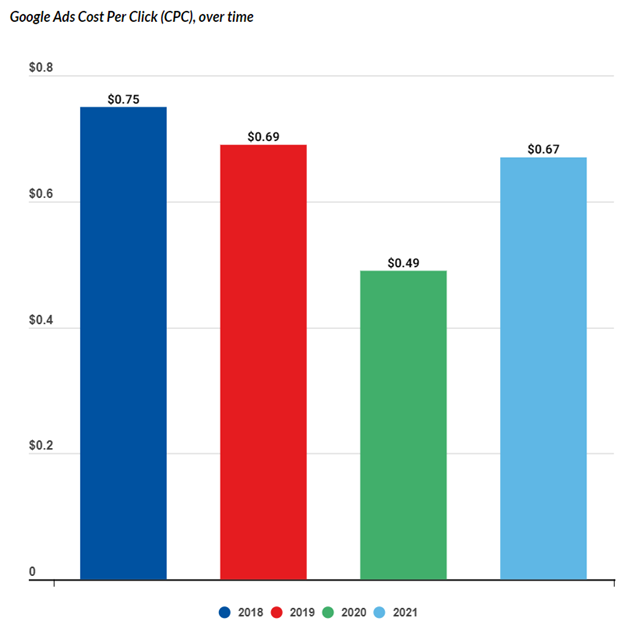 *Chart source: https://www.businessofapps.com/ads/cpc/research/cpc-rates/