Webinar Meeting: Trends in B2G Marketing
Event Details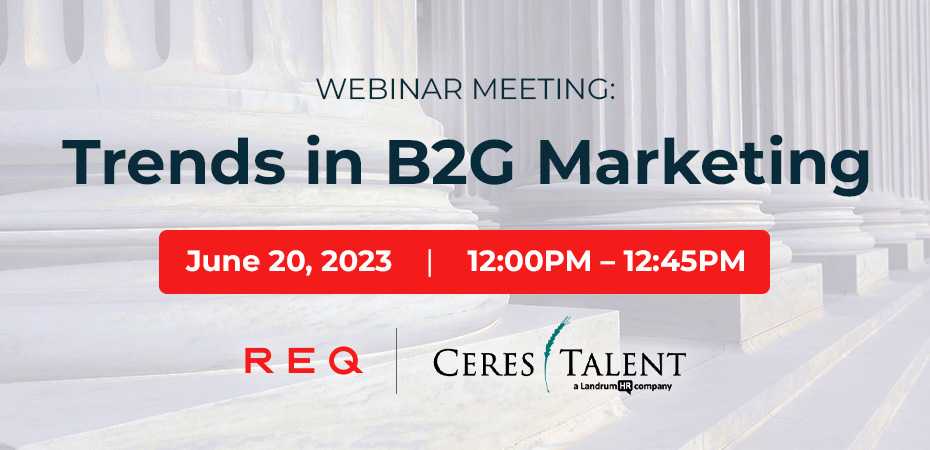 Join us for an insightful webinar as we delve into the dynamic world of B2G marketing and communications and explore the latest trends shaping the landscape. From the rise of digital transformation to the increasing importance of strategic partnerships, this webinar will provide valuable insights and practical strategies to navigate the ever-evolving public sector market successfully. Don't miss out on this opportunity to stay ahead of the curve and maximize your organization's growth in the government sector.
Panelists include:
Suzanne Behrens, CMO, Granicus
Joe Pendry, VP of Marketing and Communications, Akima
Rikki Rogers, VP of Marketing, GCOM
Roela Santos, SVP of Marketing and Communications, Amentum
Elizabeth Shea, EVP of Public Relations, REQ (moderator)
Elizabeth will moderate an informative discussion about:
How changes in government buying behavior are impacting budget allocations and the marketing mix
Differentiation strategies in a crowded sector
How to build credibility when customer references can be challenging
How and if these leading government contractors are leveraging AI both as a marketing tactic and a product feature
About our speakers:
Suzanne Behrens, CMO, Granicus
Joe Pendry is VP of Marketing and Communications at Akima where he is responsible for developing marketing strategy, executing branding, driving business growth, and employee and stakeholder engagement. Prior to joining Akima, Joe held marketing leadership positions at Lockheed Martin IS&GS and led communications at several companies including General Dynamics, Symantec, and Booz Allen. 
Rikki Rogers is VP of Marketing for GCOM where she's responsible for marketing, communications, and PR strategy. She has more than 15 years of experience leading results-driven B2B and B2G marketing teams.  
Roela Santos, SVP, Marketing and Communications, Amentum
Elizabeth Shea is EVP of Public Relations for REQ, bringing more than 20 years of experience in the tech PR space, helping companies navigate the messaging and strategies necessary to be successful in the public sector.