REQ+A Webinar: Communications Strategies for Mergers & Acquisitions
Event Details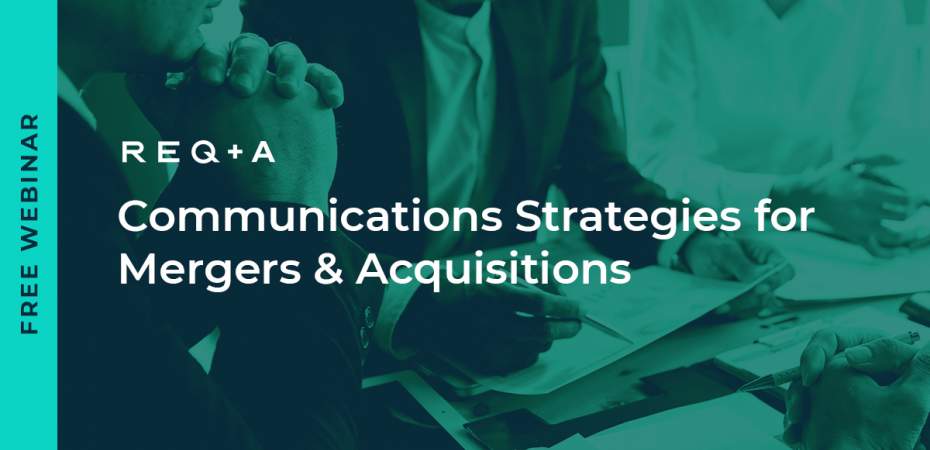 Join us on Thursday, October 15th at 4pm ET for the next REQ+A PR webinar focused on how to position your company when pursuing a merger or acquisition event.
REQ's EVP of Public Relations, Elizabeth Shea, and special guests, Parag Sheth and Nick Perdikis, will discuss:
How to craft the communications and PR strategies to best position your organization for a merger or acquisition, both buy-side and sell-side.
Actionable ideas on how to best land your company on the radars of strategic and financial acquirers.
Perspectives on the M&A community into 2021. 
About our speakers:
Elizabeth Shea is EVP of Public Relations for REQ, bringing more than 20 years of experience in the tech PR space, helping companies navigate the messaging and strategies of both capital raises and mergers and acquisitions.
Parag Sheth is a Managing Director at Outcome Capital and serves as a Board Member of Mindshare and the Northern Virginia National Chapter of the Association for Corporate Growth. He is a venture capital investor and a trusted advisor and business partner to companies in all stages of the growth spectrum. 
Nick Perdikis is CEO and Chief Revenue Officer at Devensoft, a B2B SaaS provider helping companies around the world better manage, execute and deliver on their M&A programs. He brings more than 30 years in the information technology industry.