REQ Named One of the District's Great Places to Work
We're thrilled that Washingtonian included REQ in its 2015 list for Great Places to Work. At REQ, we embrace the perks of contemporary office life, including a creative open floor plan, a fully stocked kitchen, a break room with ping pong and darts, and a drink cart that makes the rounds on Friday afternoons. But that alone doesn't explain why we have a core group of staff members that have been here since the company started and we're still one of the fastest growing companies in the DC area. So, what's our secret? There isn't just one.
Diversity
Our team is a diverse, passionate group of professionals that work hard, play hard, and embrace challenges with an energy and grace that's hard to beat. And when we say diverse, we mean it in every sense of the word: race, religion, political views, you name it. Our teammates speak more than 15 languages and hail from all regions of the globe (much like our clientele).
The diversity in our office makes REQ a wonderful place to work in many ways, but the most rewarding is the knowledge that we work for a company that celebrates us for who we are - whoever that may be. PepsiCo exec Brad Jakeman may have said it best: "Innovation and disruption does not come from homogeneous groups of people." At REQ, we pay homage to that fact in the way that we've staffed our company.
Passion
The people that we hire succeed at REQ because of a passion for the work that we do, not just the number of years they've spent in the industry. While many of our staff members have worked for some of the biggest agencies and brands out there, a great number of our team members are self-taught and came to REQ because they love the work - be it tech, design, content, or SEO.
That isn't to say that we work all the time; on the contrary, REQ leadership knows that the most talented, driven employees are ones that have a well-rounded life outside of work. We've got musicians, artists, writers, gamers, foodies, yoga instructors, and runners on staff that have plenty of life to live after their 40 billable hours per week. That's a rare luxury in the agency world, but one that our CEO, Tripp Donnelly, will never let go.
Community
In keeping with our internal culture, REQ and our team members stay plugged into the local community. While we often host events in our own office, such as career-building conversations with rising freshmen at American University, Women Who Code's Front End Hack Night, or our most recent event, The Developer's Journey, our staff also takes their expertise outside the office.
Thanks @moonstompmaggie for the assist & welcome @sirjessthebrave to the @dctechmeetup squad! #dctech pic.twitter.com/wZ5WktSvlF

Brandon T. Luong (@BrandonTLuong) October 21, 2015
On our staff is the Board President of the DC Chapter of Society for Marketing Professional Services, Katie Garrett, and the President of Washington Women in PR, Avelyn Austin. In addition, many staff members, like our Vice President of Technology & Engineering, Tedi Konda, or our Associate Developer, Jessica Bell, stay active in the community by teaching and mentoring after hours. Some of us are even celebrity bowlers -- but you'd have to ask Tripp about that.
Team
Finally, and most importantly, REQ is an amazing place to work because of the team mentality. Everyone at REQ embraces the idea of continual learning, and internal trainings are common. Whether it's for Google Adwords certifications or a general primer from the SEO team on the more technical aspects of their job, staff members are encouraged to cross-pollinate ideas and learn across departments. This ethos thrives so well at REQ because of our culture of humility, curiosity, and pursuit of excellence. From upper management to our most junior associates, REQ staff members are always eager to ponder a new challenge and embrace a promising solution no matter who raises the idea.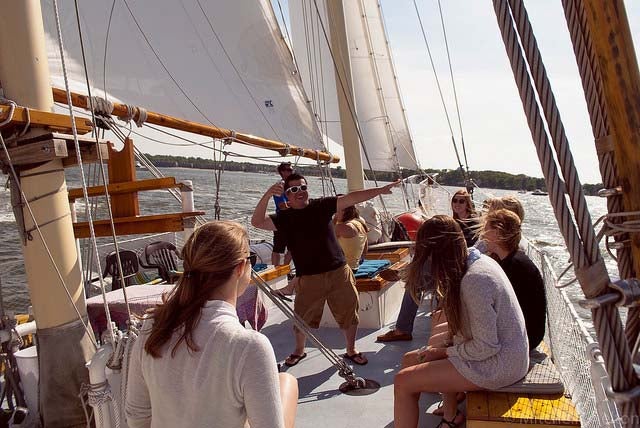 It's precisely because of this culture that REQ staff members are best able to serve our clients with relentless energy and drive. We cultivate the environment that makes it possible for people to think up big ideas and act on them. So when Tripp tells us that we are 'a lean, precision instrument,' he's absolutely right - and our clients can attest to that.
If you're interested in joining the REQ team, drop us a line. We're hiring.