REQ Earns a Five-Star Rating on Clutch
Every brand has a story to tell about the way they are delivering value in a way that no one else can quite replicate. It may be a story of late nights and tight deadlines or of principles and guiding ideals that shine through in everything they do.
We know stories are important. Here at REQ, we are also proud of our own story.
REQ was founded in 2008 to protect online reputations at the dawn of a burgeoning industry. Since then, we have grown to deliver a full suite of brand marketing, brand advocacy, brand management, and brand protection services.
Today, we serve leading national brands including Amazon, Alphabet, eBay, PayPal, StubHub, PhRMA, National Association of Broadcasters, and SourceAmerica.
To mark our ten-year anniversary in 2018, we rebranded as REQ to better align our brand with the range of services and solutions we provide to our growing client roster of technology companies and national associations.
Our work reaching target audiences and building communities has earned us some recognitions.
Now, thanks to our talented team and to our wonderful clients, we are proud to add another accolade.
We are excited to share that Clutch, a B2B ratings and reviews platform, has named us one of the top advertising agencies in 2018. This means a lot to us, especially because Clutch identifies outstanding service providers based, to a large extent, on what their clients are saying about them.
Clutch evaluates companies based on an extensive variety of criteria, but the largest consideration is given to client reviews. We were fortunate enough to have one of our clients share their experience working with us: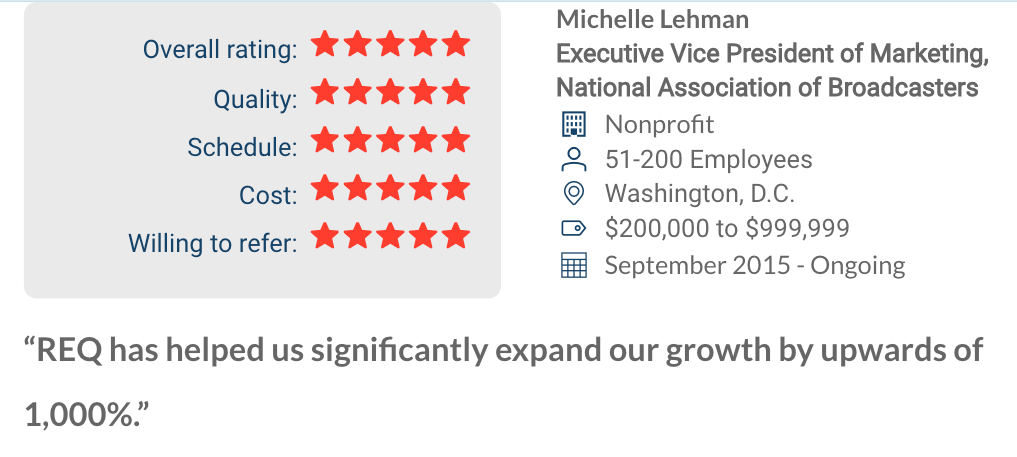 We strive to be valued partners to our clients and we are thrilled to be recognized for hitting the mark. Check out our Clutch profile to read what else our clients had to say about us.
We have also been featured by Clutch's sister-site, The Manifest, as one of the top SEO companies in 2018. The Manifest is a resource that provides insights to help businesses identify potential areas for growth. We were featured for both our outstanding quality as an agency as well as for a web design project we completed for an ecommerce platform.
At REQ, we excel at helping businesses connect with their audiences with purpose, passion, and clarity. We fully grasp the why it's important to brand your business, which is why we are so proud of our efforts to build better brands.
Thank you to all our amazing clients. It has been a privilege to tell your stories. As we aim each day to live by our tagline "Own What's Next," and your words of praise are the best reminder that we're on the right track.