REQ Earns Clutch Leader Distinction in 17 Categories
REQ is a proven leader in the advertising and marketing world building global brands and helping them manage their reputations and reach new clients. We merge talent, technology, and tradecraft to deliver path-breaking digital advocacy, reputation management, and public relations solutions that drive our clients' business goals.
Our experience spans industries from nonprofits to fast casuals, health care, retail, ecommerce, tech, and real estate.
Clutch, a trusted B2B ratings and reviews platform, recently named REQ the #1 advertising and marketing agency for real estate firms. Within that same industry, REQ was named by Clutch as one of the top 15 providers of SEO services.
REQ was also awarded the top position among advertising and marketing firms in the healthcare, hospitality, and retail spaces. Additionally, we've been ranked #3 on Clutch's list of top PR firms for retail businesses.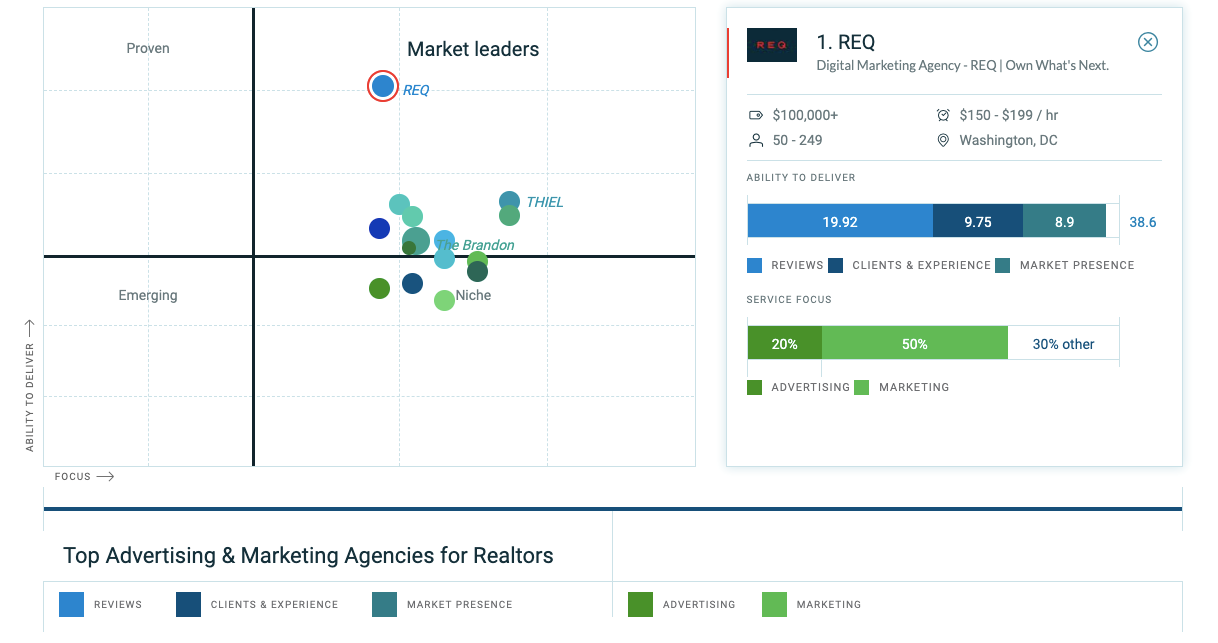 Overall, REQ was named as a Clutch leader in 17 categories. The most prominent categories include:
Advertising & Marketing: Healthcare
Advertising & Marketing: Hospitality
Advertising & Marketing: Real Estate
Advertising & Marketing: Retail
Public Relations: Healthcare
Public Relations: Media
Public Relations: Retail
Public Relations: Business Services
Public Relations: Education
Public Relations: Real Estate
Search Engine Optimization: Healthcare
Search Engine Optimization: Hospitality
Search Engine Optimization: Real Estate
Clutch business analysts compile troves of data related to industry experience, market presence, and feedback from clients to identify firms that deliver. By reaching out and conducting interviews with our current and former partners, these analysts are able to gain valuable data about the services that we provide. Our collection of positive reviews gives readers detailed insights regarding our extremely high rankings.

In addition to being ranked highly on Clutch, we're also featured on Clutch sister sites, The Manifest and Visual Objects. Readers can visit The Manifest to learn more about how we differentiate our services from those of others in our field. Being highlighted on Visual Objects helps us showcase our successful projects in a dynamic visual format.
These rankings mark important milestones for our company. We're thankful to the incredible business partners and talented team members who've helped us get to this point, and we can't wait to see what the rest of this year holds. Thank you, Clutch!
Ready to start owning the next phase of your business? Send us a note with your current goals, and we'll be in touch!