REQ Clients Win Big at 2019 Communicator Awards
Washington, DC - May 9, 2019 - The 25th Annual Communicator Awards, sanctioned and judged by the Academy of Interactive & Visual Arts (AIVA), has selected three of REQ's clients as winners in various website categories. This marks REQ's third consecutive year of earning the top designation; this year, REQ client winners are the Wine & Spirits Wholesalers of America (WSWA), Coro, and PAE.
About Our Winners
WSWA
The Wine & Spirits Wholesalers of America (WSWA) is the voice of the wine and spirits industry as the only national membership organization of wine and spirits distributors. Since 1943, they have advocated on federal, state, regulatory, and legal issues impacting distributors and the beverage alcohol industry.
WSWA approached REQ to rethink their website and bring clarity to a complex industry. REQ worked with them to create an engaging website that illustrates the mission and value proposition of WSWA, along with robust resources exclusive to members. The awarded website emblazons the association's work in a clear, compelling way that appeals to and attracts its audiences.
Coro
Coro is a unique peer-to-peer payment platform that allows users to send and receive gold (XAU) and U.S. dollars (USD). Coro also provides the ability to freely convert between the two currencies similar to the way that one might exchange U.S. dollars (USD) for Euros (EUR). Coro leverages the power of decentralized ledger technology to give users direct control of their money anywhere in the world ‐ regardless of the instability of the moment.
REQ worked with Coro to launch their product with a surround-sound campaign including brand strategy, content, and website design. The Communicator Awards selected the Coro website as a winner, which is not only thoughtfully designed and optimized for the user, but also serves as an educational resource for media, influencers, and the general public on the unprecedented product.
PAE
PAE, a defense and government services contractor, delivers smart, secure, mission-critical operational support, information analysis, and business process services across all seven continents. They are a global leader of government services and employ over 20,000 people in 70 countries.
PAE partnered with REQ to help position them as a leader in the federal contracting space. REQ conducted a brand strategy to articulate and amplify PAE's brand story and presence, and increase awareness among target consumers. From there, REQ worked with PAE to activate their new brand across digital and physical touchpoints with an integrated marketing plan, which includes the selected website. The website highlights not only the refreshed brand, but also the vision and principles to which PAE adheres.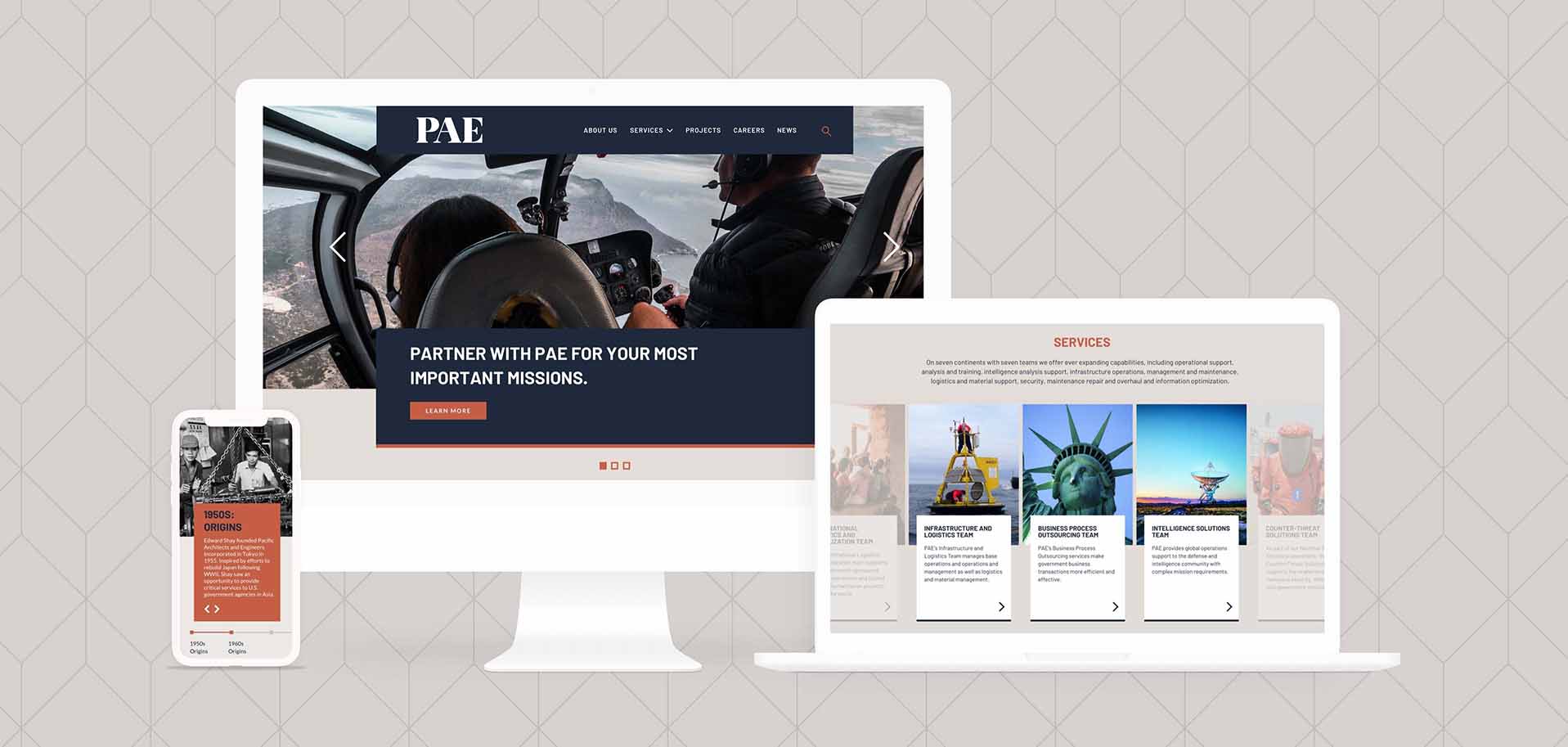 About The Communicator Awards
The Communicator Awards is the leading international creative awards program honoring creative excellence for communication professionals. Founded over two decades ago, they involve an annual competition honoring the best in advertising, corporate communications, public relations and identity for print, video, interactive, and audio. The Communicator Awards receives entries from top ad agencies around the globe, and is widely recognized as one of the largest awards of its kind in the world.
The Communicator Awards is sanctioned and judged by the Academy of Interactive & Visual Arts (AIVA), an invitation-only group consisting of top-tier professionals from acclaimed media, communications, advertising, creative and marketing firms. AIVA members include executives from organizations such as Airtype Studio, Big Spaceship, Conde Nast, Coach, Disney, The Ellen Degeneres Show, Estee Lauder, Fry Hammond Barr, Lockheed Martin, MTV Networks, Pitney Bowes, rabble+rouser, Sotheby's Institute of Art, Time, Inc, Victoria's Secret, Yahoo!, and Wired.
Read more about The Communicator Awards, and check out more of REQ's work.