REQ Celebrates Multiple 2019 Accolades from the Business Research Firm Clutch.co
REQ's talented Digital Advertising and Search Engine Optimization (SEO) team has earned several recognitions from Clutch.co in 2019. Clutch is an innovative search platform that helps brands and businesses find the right agencies for their needs.
REQ's commitment to delivering digital advertising strategies that bring home results for our clients has earned us the title as the #2 Out of Home Advertising Company on the Clutch platform. We are also excited to share that we have been ranked in their 2019 report among the top Enterprise SEO firms.
"The marketing and creative sectors are increasingly adopting a digital-first mentality," said Clutch Senior Business Analyst Sara Philibotte. "The best agencies must effectively incorporate creative strategy with the most cutting-edge technologies. These agencies have proven their ability to excel as versatile and adaptive leaders in this new market."
The 2019 Clutch rankings weigh factors including level of client satisfaction, diversity of market presence, and track record of high-quality results. We are proud of this exciting news for our team and see these external recognitions as an important affirmation that our hard work and dedication continues to pay off for our clients.
Our position among the top 15 OOH advertising agencies of 2019 has granted us the opportunity to be placed on Clutch's unique Leaders Matrix pictured below.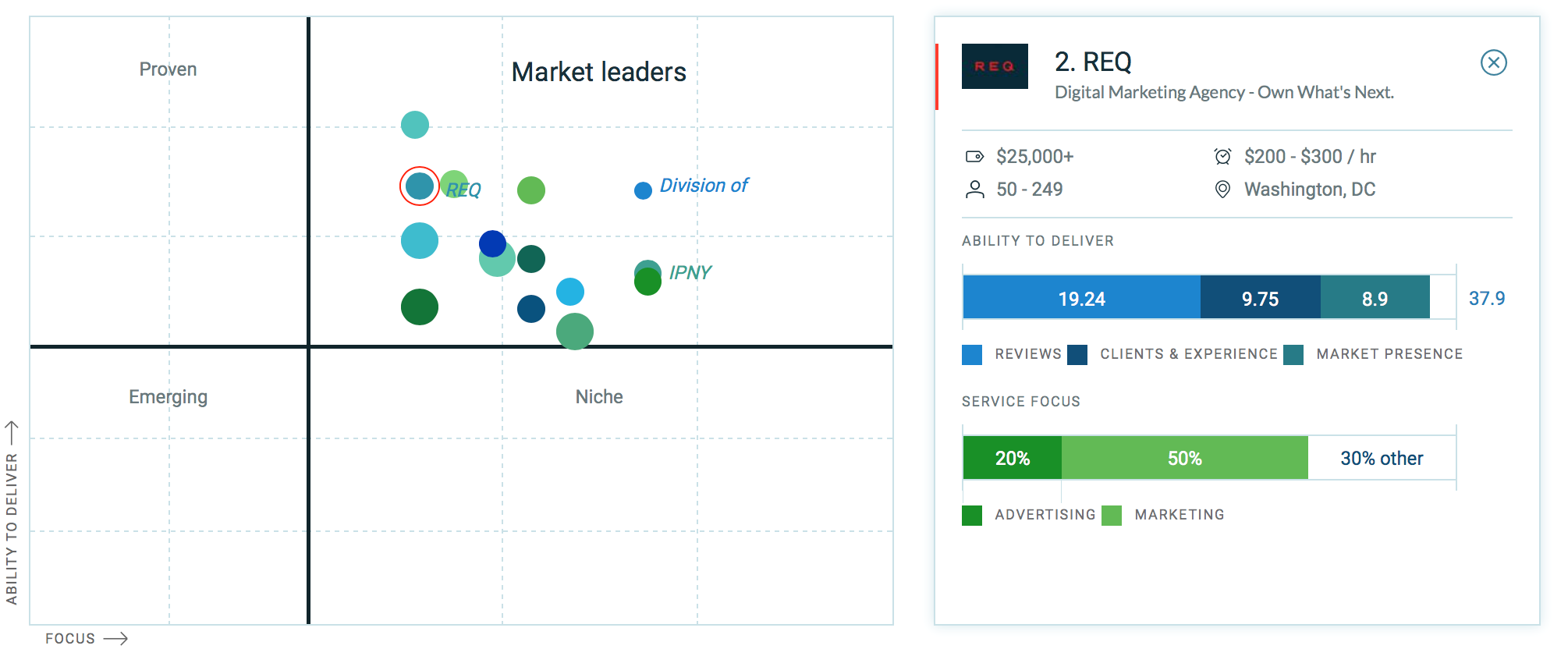 The Clutch Leaders Matrix provides a broad view of the top-performing companies in a particular industry or location. Each Leaders Matrix takes into account a company's "Ability to Deliver" and "Focus."
"Ability to Deliver" includes the company's client reviews, past work, market presence, and prestigious awards.
"Focus" refers to a company's level of specialization in a given service.
Our company's position as a market leader means that we have received strong feedback from clients and have a high focus on sought-after services.
In addition to earning a place on Clutch's Leaders Matrix, REQ is also proud that we have earned Clutch reviews from many of our clients. Clutch reviews give prospective clients a valuable inside look into what it is like to work with REQ as they consider partnering with us.
We are happy that the integrity of our work is reflected in the positive feedback on our profile. So far, we have accumulated 8 in depth reviews and achieved a remarkable overall ranking of 4.8 out of 5 stars. Check out one of our most recent reviews below.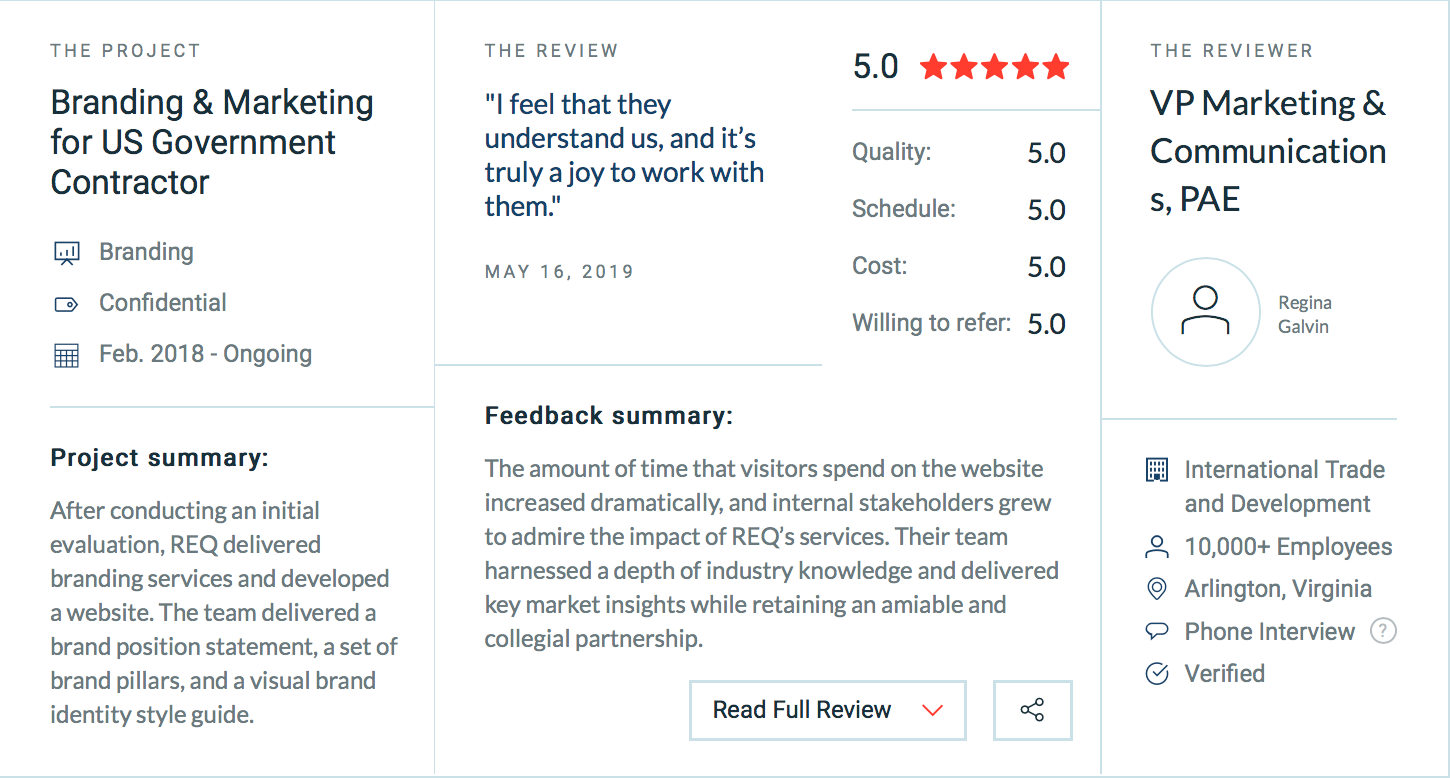 Our impressive reviews and overall ratings have earned us recognition on Clutch's affiliate websites, "The Manifest" and "Visual Objects" as well.
The Manifest is a business resource that helps firms identify and address their business challenges with how-to guides and industry reports. In their 2019 report, they listed us within their top 100 software development companies, citing the quality of our work and our efficiency as a team. REQ is thrilled to be among The Manifest's top advertising agencies of 2019.
While REQ recognizes that awards and reviews are valuable, we prefer to let our work speak for itself. We have included a portfolio of some of our best work on Visual Objects, a space for developers, designers, and other service providers to showcase creative work to potential clients. Visual Objects has included REQ in their 2019 listings among the top ad agencies on their platform.
At the end of the day, we couldn't do what we do without our loyal customers, dedicated team of digital marketers, and the support from review sites like Clutch. Our team would like to thank everyone who has contributed to our success as we continue to help our clients own what's next.