RepEquity + Virilion = Digital Powerhouse
We're thrilled to announce that RepEquity has acquired, and merged with, Virilion - an award-winning digital agency. The newly created company combines the strengths of both firms to provide our clients with a full suite of services; we're now able to deliver the science of SEO and reputation management, alongside the art of social media and world-class creative.

We now cover the four fundamental building blocks of any online presence: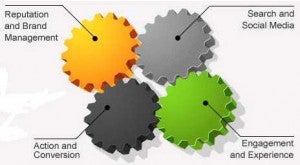 We've identified what is essentially a life cycle; reputation affects search, which drives engagement, which inspires action... which, in turn, feeds back into reputation. The addition of Virilion's extraordinary creative and development services allow us to influence the 'engagement' and 'action' quadrants by offering our clients design options that are fully fleshed-out to include multimedia, games, and more.

Both companies are excited to begin a new era - and we'll continue to work to define the frontier of search and social media optimization in 2011.