What Is Social Media Engagement and What Does It Mean?
When it comes to social media, engagement encapsulates a variety of actions, such as, a "share" on Facebook or a "like" on Instagram. It is any interaction a fan has with your social media content that shows they are interested in your post and may want to support your business. A tool for social media analysis called the "engagement rate" can be calculated by dividing the engagement volume by the number of users that could have triggered the action. One way to calculate your engagement rate is by taking the average amount of "likes" or "retweets" + "comments" and divide it by your follower amount. If you have access to your social media analaytics, it may also be calculated by those same metrics divided by people who saw the post. After observing the percentage of engagement on your social media channels, it is important to pay special attention to the posts that are receiving the most engagement, so you can use that information to optimize future posts.
What does my brand's engagement rate mean? How does it compare to others?
Instagram
Instagram is known for having higher engagement rates compared to other social media sites like Facebook and Twitter. According to Sprout Social, a social media publishing and monitoring tool, top brands on Instagram have an average per-follower engagement rate of 4.21%. Instagram's intriguing visual content combined with a thoughtful, hashtag-driven caption has proven to be the ideal scenario for increased follower engagement.
Facebook
At first glance, many companies consider their engagement rates on Facebook to be too low, but when compared to the averages for different "fan amounts" brands might be surprised. After analyzing more than 500,000 Facebook pages, SocialBakers, a social media monitoring tool, found that: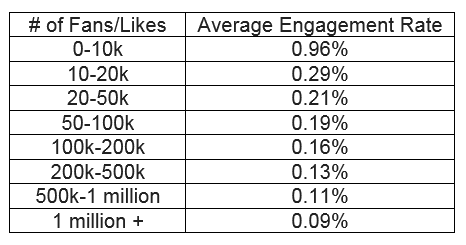 Twitter
Due to Twitter's fast paced, real-time feed, not only can engagement be tougher to come by, but brands also have to Tweet frequently to keep themselves relevant. So, how do you compare? According to SocialBakers, the average engagement rate of the top 25 brands is 0.07% per tweet.
LinkedIn
The content shared on LinkedIn, a B2B social platform, is very different than what is shared on other social channels. Only 57% of companies are using LinkedIn pages, which is surprising since a Hubspot study of more than 5,000 businesses found that LinkedIn has the highest visitor to lead conversion rate at 2.74%. According to Forrester, who analyzed the top 50 global brands, company page updates see an average engagement of .054%. Many companies are missing an opportunity to capture shares, likes and comments from their target audience.
Why is engagement important?
Engagement is a way to measure your fans' personal connections with your brand, which ultimately leads to more success on and off your social media channels. While your follower count is not necessarily a good measure of social media success, engagement is a much better way to gauge the impact your company is actually making in the social sphere. If you're not able to get a fan to "like" your post, how do you expect to get them to purchase from you? After a fan "likes" one of your posts, they are more inclined to click on a link and end up on your website. Once a fan has reached your website, the likelihood of them purchasing goes up. That "like" has the power to be the first step in their journey to buy.