Voice Search on The Rise: New Tech, New Queries
It's no surprise that Google is beginning to consider search something that should be interwoven into a person's everyday life. For one thing, there's Google Home, the company's new "always on" home-based-assistant that not only streams music and manages everyday tasks, but also allows users to get answers from Google without touching the device. And then there's Allo, Google's recently released messenger app which incorporates Google search into its text platform to help users do things like find restaurants, get flight information, and jointly look at search results while texting.
While these types of technologies aren't groundbreaking (Amazon released its home based assistant Echo nearly 2 years ago, and Google Now is ingrained into Android operated phones), it's a sign that voice search is becoming a truly important tool. Combine that with the Internet of Things movement often making headlines and you have a recipe for a very different search experience, dominated by the spoken word.
THE RISE OF MOBILE AND VOICE SEARCH
While home and text based applications of voice search, like the ones mentioned above, are relatively new-to-market, the use of mobile devices has been steadily increasing over the last 10 years. And they finally surpassed desktop searches in 2014 - a huge milestone. With that massive shift in device choice, user behavior has begun to shift as well.
During the 2016 Google I/O keynote back in May, Google CEO Sundar Pinchai stated that 20% of searches on Android devices (and in the Google app) were done by voice. This is a staggering number since most voice search activity has only begun to take off in the last year.
Pinchai's statement is consistent with another study from February by the Global Web Index, revealing that nearly 1/5 of online adults used voice search or a voice control feature on their mobile device. And the demographic with the highest percentage of voice search? Teenagers and young adults between the ages of 16-24, who also happen to be the largest proportion of internet users.
So, it's no wonder Google and Amazon are beginning to double down on the voice trend with these new mobile device features and fancy home based assistants. With stats like these, there's very little doubt that voice is a big factor in the future of search.
TWO SEO GAME-CHANGERS IN VOICE SEARCH 
This is a real tipping point for search marketers, since these new technologies change the way people get answers, find products and services, and search for things online. No longer are individuals just typing a query into Google and getting a list of results. They are speaking in a conversational manner and getting direct answers without having to click through to a landing page. They're booking flights, making dinner reservations, and buying products by voice—all new behaviors that are likely to change the search landscape dramatically. But that begs the question… How?
CONVERSATIONAL QUERIES
As an SEO, keywords are an integral part to my job. And now, with voice search on the rise, the way content is optimized and how relevant keywords are found will have to change to keep up with the technology in two major ways: conversational language and location.
Turns out, when we start speaking directly into our phones, our queries change—they become more like actual questions. Take a search for "father's day gifts" as an example. If I was searching in Google on my laptop, I'd likely search something like: "father's day gifts 2016" or "father's day gift ideas baseball."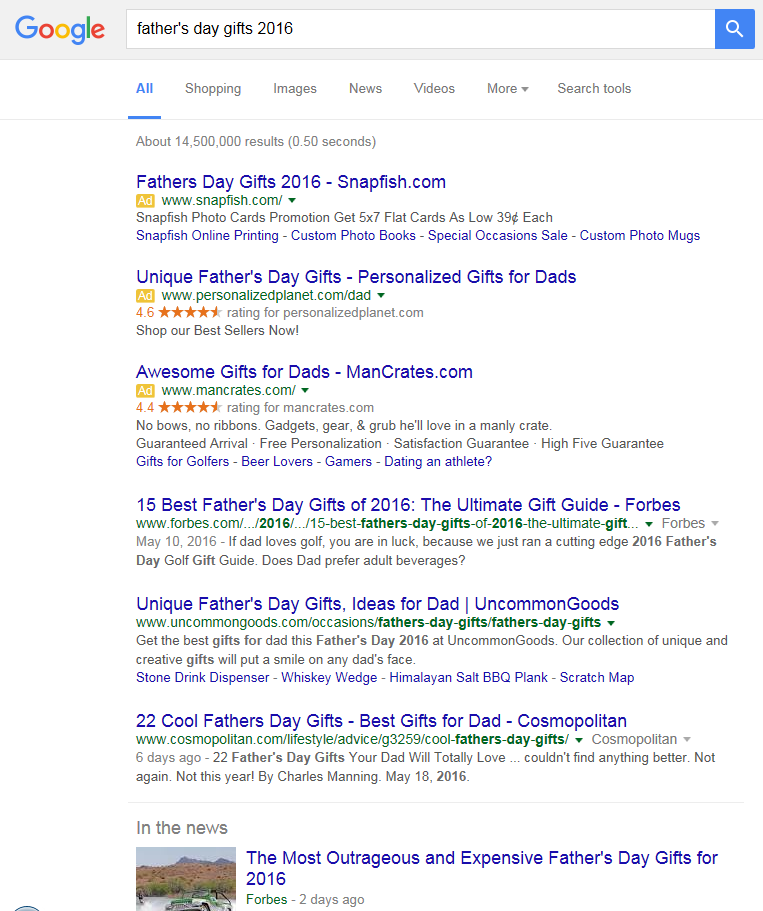 But if I was on my phone and needed to look up some ideas while on the couch or walking home from work, I'd likely ask Google, "What should I get my dad for Father's day?" or "What to get a baseball fan for father's day?"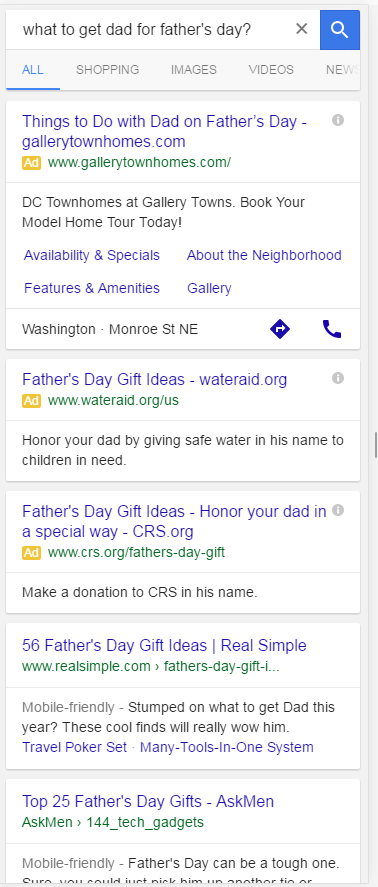 As you can see, typed queries tend to be shorter form, while voice queries are quite a few more words. In fact, this is a trend that's generally seen across the board, as this graph from Moz shows.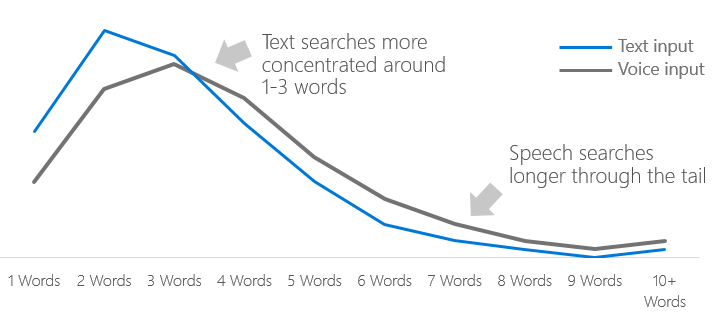 LOCATION-BASED QUERIES
According to a Think with Google article  in April 2015, "near me" searches were up 34x from 2011-2015, and grew 146% just last year. Not to mention that those kind of searches happen 80% of the time on mobile.
Since that's the case, and location-based voice search continues to grow, many voice searches will likely take the shape of "near me" or conversational "where" type queries, and begin to cannibalize standard searches.
Take a search like "buy a basketball," which is a high demand desktop search term for someone looking to purchase a basketball.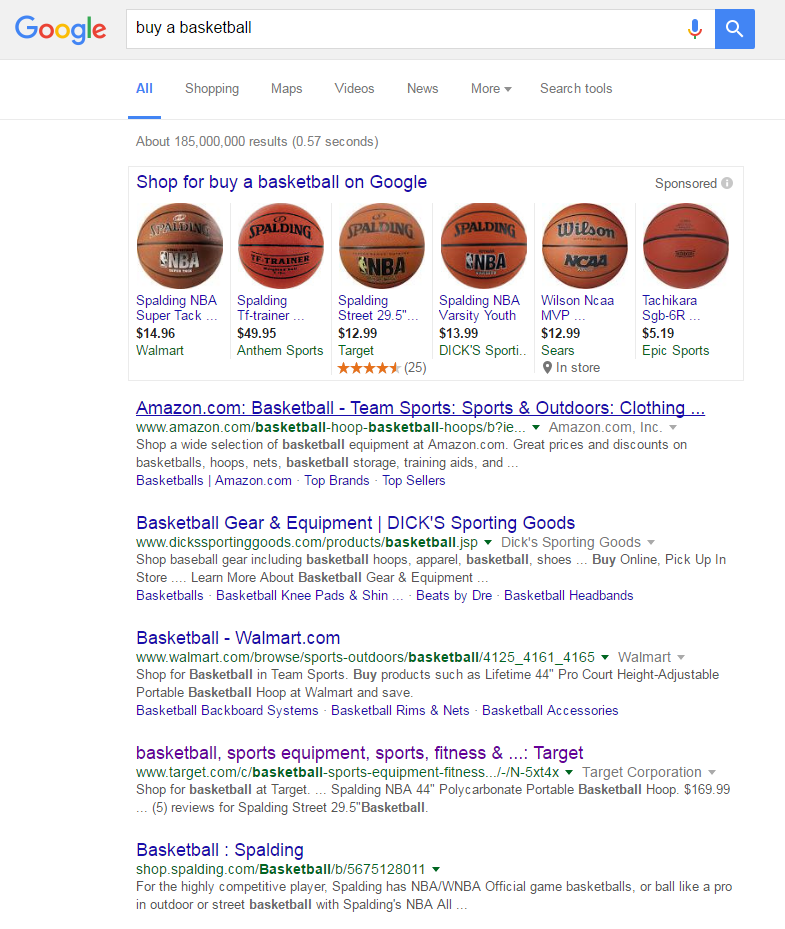 How do you think someone would change their search behavior under these circumstances? My first guess would be something like "where can I buy a basketball?" or "basketball stores near me."

If we look at the results for "where to buy a basketball," the mobile conversational query shows local results and physical stores with distances from the user, while the desktop-typed query "buy a basketball" leads with more standard ads and online stores ranking in organic like Amazon and Dick's Sporting Goods.
And when you do a "near me" search, it skews even more local with a map of ads displayed prominently, showing store hours, distance, and pricing:

Therefore, search marketers will need to begin thinking about these types of listings when doing keyword research, building content, and optimizing ads. And in some cases, perhaps SEOs like myself won't want to optimize for voice search because it will be unlikely that they get a ranking result. They might even have to consider paid ads as the alternative (gasp!).
KEY TAKEAWAYS
So for an e-commerce business that relies heavily on shorter word/phrase based queries, their audience may be shifting search patterns to natural conversation with more emphasis on:
The longtail.

Sentences in the form of a who, what, where, when, or how question.

Location-based searches.
And for the marketer, begin to really think hard about the implications of voice search, because as user behavior shifts, other marketers will begin to catch on. And being ahead of the game will pay dividends for your clients down the road, both literally and figuratively.