Using hreflang to Drive Donations
Our SEO Team was recently tasked with developing an International SEO strategy for one of our clients: SOS Children's Villages USA – the U.S. subsidiary of SOS Children's Villages International.
When they came to our agency for help, the marketing team at SOS-USA addressed that the International domain (sos-childrensvillages.org) was outranking their domain (sos-usa.org) for many branded and non-branded phrases in the U.S. This was a missed opportunity for donations, as the International site did not prominently include donation forms on their pages, while the U.S. site did.
So after several meetings and deliberation, we set out to direct U.S. organic search traffic from the International site to the U.S. Site.
The Hreflang Journey Begins
In addition to the International website's stronger domain authority and existing rankings, one of the biggest challenges when creating the SEO campaign strategy was that we did not have the umbrella organization as a client. Therefore, RepEquity would not be able to make any changes to the front-end of the International site and very few to the back-end.
To begin, we offered several options to their team. These included:
Instituting 301 redirects
Adding canonical tags to designated pages
Implementing hreflang
Adding an overlay to select the country of origin when the International site loads
Ultimately, SOS-USA elected to implement hreflang tags on both sites via an XML sitemap.
A Quick Hreflang Primer
Hreflang is an html tagging solution that Google recommends when there is multilingual or multiregional content on a website and there's a desire to tie specific content to a specific audience or location in the Google search results.
We agreed that this was the best option based on the circumstances – it would require no front-end development on the International site and allowed for only specific regional traffic to be targeted.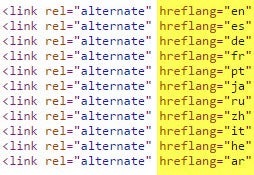 Typically, hreflang is implemented on a site that has translated content and the site owner wants to target users that:
Have browser settings in that language
Are searching from a specific country
Are searching in a specific language
Are searching on a different country's version of Google (e.g. Google.co.uk, Google.fr, etc.)
Our Approach
In this case, our goal was to drive users searching from the U.S. to the SOS-USA.org domain, and anyone outside of the U.S. to the SOS International site.
Since there is not a 'non-u.s.' hreflang designation, this application was somewhat unorthodox. We were using hreflang across two domains, rather than one, and the efforts focused on U.S. searchers and non-U.S. searchers. Hreflang is typically implemented for scenarios focused on particular countries or languages, such as English speakers in the U.S. and English speakers in the U.K, or searchers who speak X language and those that speak Y language.
Despite the challenge of our unusual approach, we hypothesized if we deployed 'English-U.S.' hreflang code on pages on the U.S. site and only 'English' hreflang code on reciprocal pages on the International site, we could then get Google to prioritize the U.S. site for those individuals searching in English from the United States and the International site for those searching in English outside the U.S.
*Non-english searchers were not factored into the scope due to the two sites' content being written almost entirely in English.
A Bit More on the Intricacies of Hreflang
Hreflang coding is unique because tags must be referenced on the targeted page(s) and the origination page. This is required for whatever page you want to rank, so it is imperative to have a similar page with designated hreflang tags.
This type of code can be implemented in one of three ways:
On each individual page, as well as its reciprocal page(s)
In XML sitemaps
In HTTP headers for non-html files
In SOS-USA's case, the hreflang tags were implemented into XML sitemaps on both the SOS-USA and SOS-International sites. We did this knowing that any potential changes in the long term – say a URL changed or a page 404'd – would be easier to manage by uploading one XML file to each corresponding site and then verifying in Google Search Console, rather than making adjustments at the page level. Furthermore, XML sitemaps can easily be generated using  a crawling tool like Screaming Frog, an Excel Spreadsheet of reciprocal pages, and this great hreflang sitemap generator. 
The Test Run
We ran a test on 14 pages: 7 on SOS-USA and 7 for corresponding pages on SOS-International.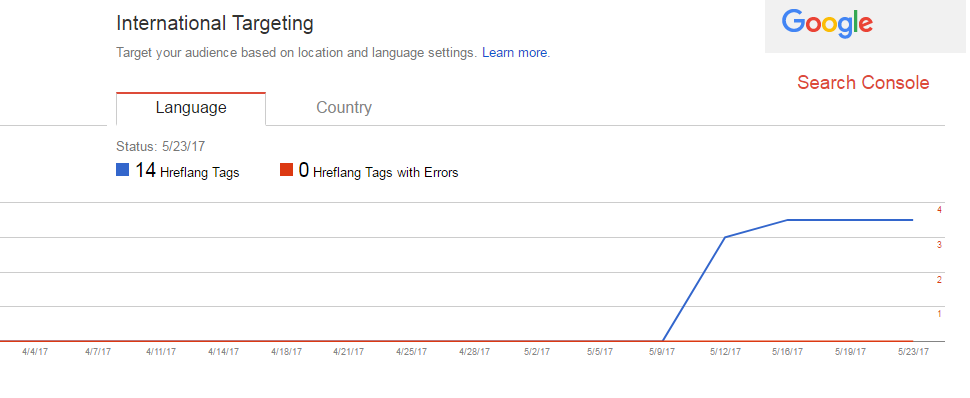 Within a week after implementation, we began to see a shift in traffic and rankings for several of the SOS-USA pages where we added hreflang tags.
SOS-USA "Advocate for Children" Page
https://www.sos-usa.org/get-involved/advocate-for-children
While the number of clicks was relatively small, we saw dramatic changes in rankings, impressions and click-through rates when comparing two weeks pre-implementation and two weeks post-implementation.
As shown above, average position in the U.S. jumped from 17.1 to 4.0 for terms associated with the /get-involved-advocate-for-children landing page and there was an increase from no clicks on the page to nine in the same timeframe post implementation.
Looking at keyword specific data, the term "Advocate for Children's Rights," one that generates 70 U.S. Searches per month, went from position #13 in the U.S. to #1.

Across all pages and keywords, average position jumped from 13.7 to 3.7 in one month post-implementation, with new clicks to the page that did not exist before (see above).
Homepage Improvement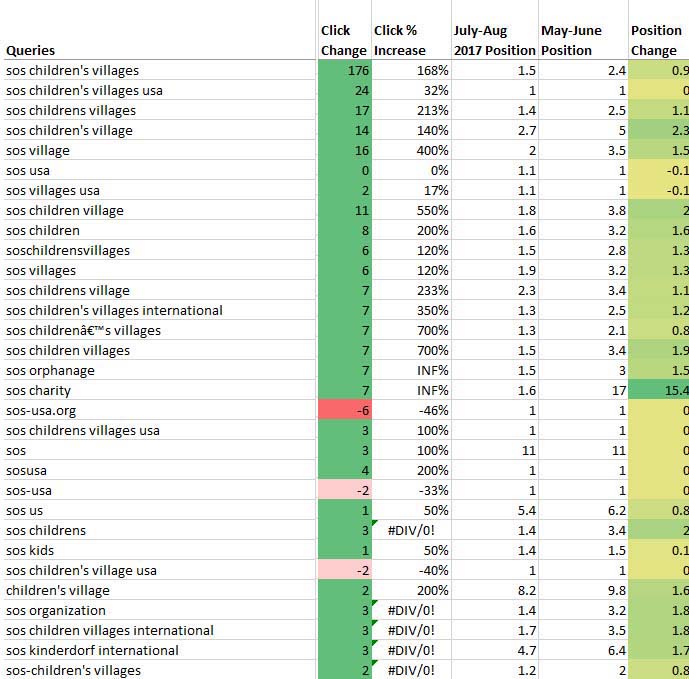 Following the test, we created a second set of XML sitemaps with a longer list of links, including the homepages of both sites.
Specifically, the homepage hreflang implementation led to a net 352 click increase for the U.S. site when comparing July/August 2017 to May/June 2017. Additionally, you can see a lift in rankings for a majority of the branded terms searched in the U.S. to the U.S. homepage – some of these terms did not get any clicks previously – like 'sos charity'.
And if we look year-over-year, the traffic and conversions to the U.S. homepage are significantly higher, which correlates to the increase.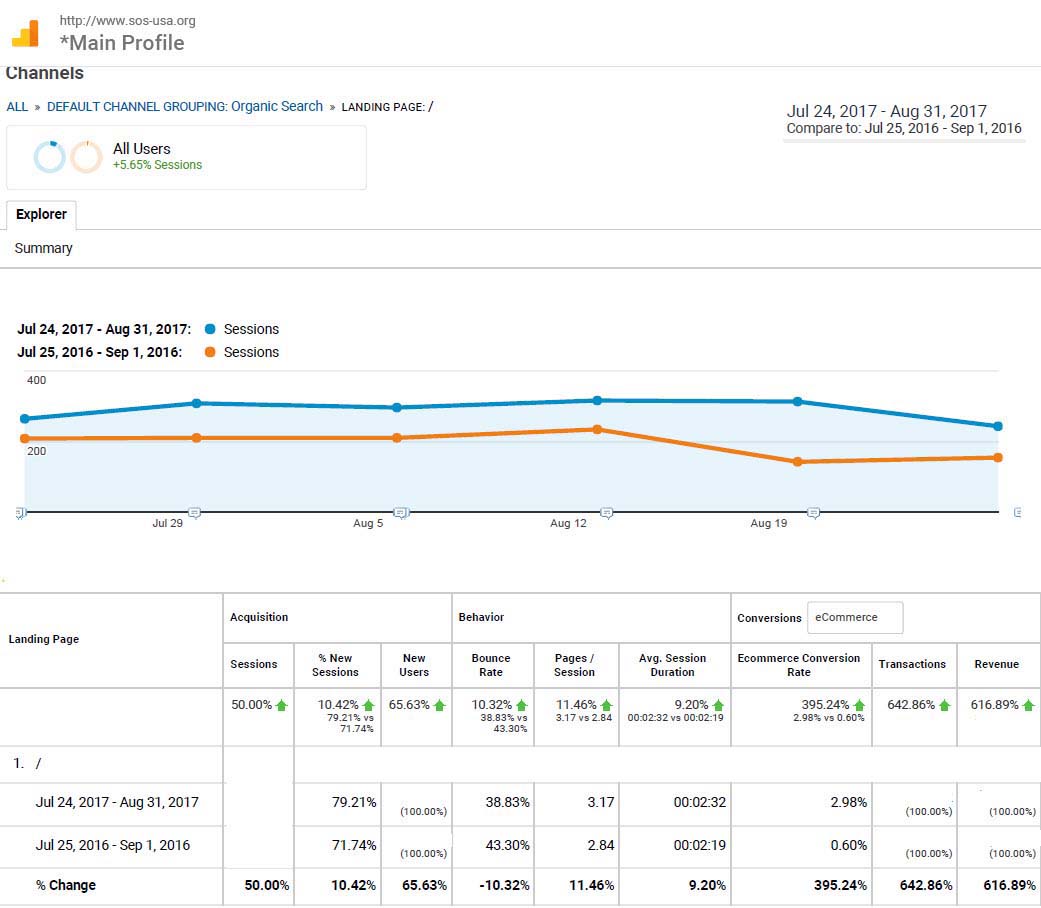 We also examined the International site's rankings after the launch, using visitors searching from the top English speaking countries outside the U.S. like the U.K., Canada, etc.  In the image below, you can see rankings remained stable for SOS-International's Top 10 branded keywords for U.K. visitors.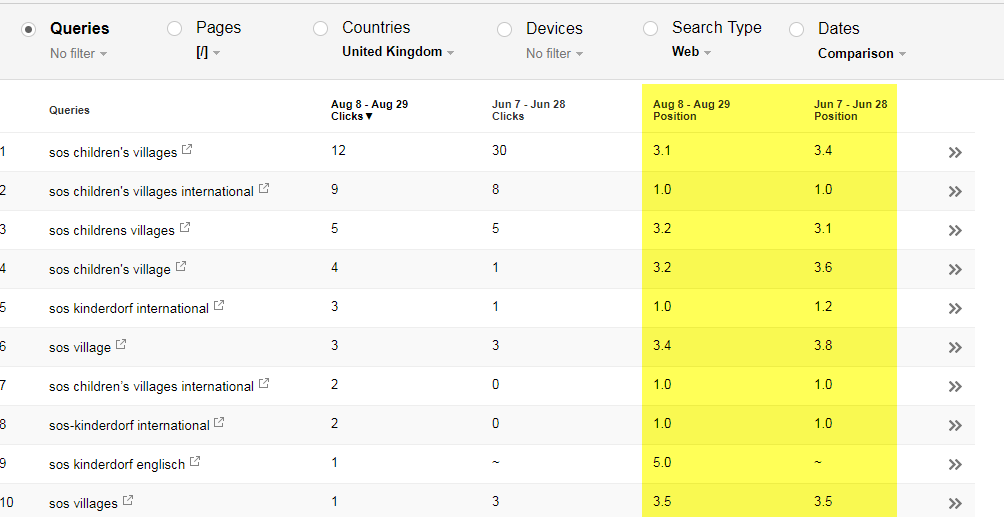 Additonally, we checked combined U.S.  traffic for both sites' homepages and while U.S. based traffic did drop expectedly for the International site, the U.S. site gained nearly the same amount of traffic back.
In addition to the homepage performance improvement for SOS-USA, we also saw net increases in traffic year-over-year for many of their country specific pages, notably the hundreds of /where-we-are pages for each country in which SOS has a presence.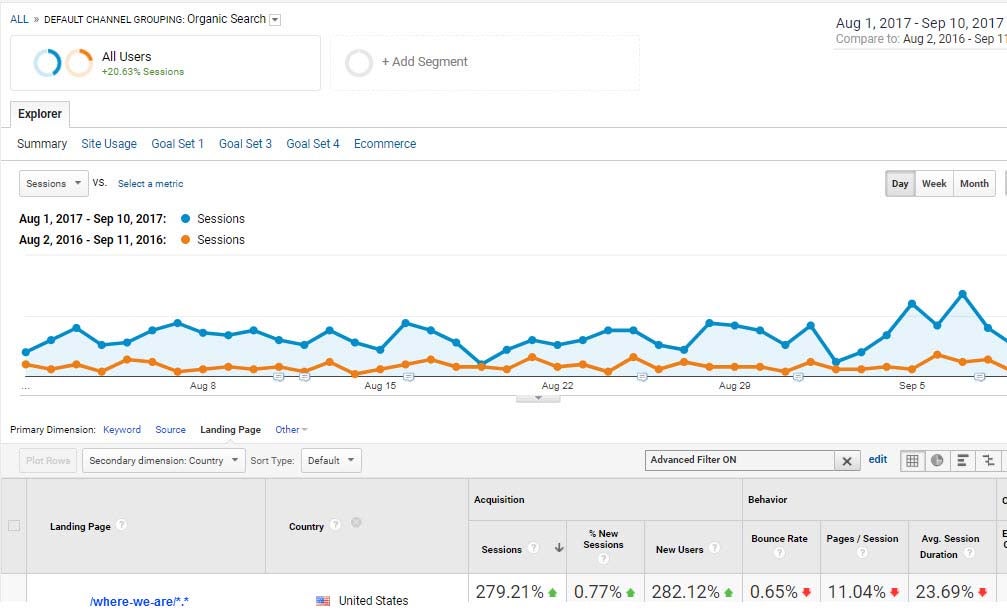 Additional Learnings
A couple of the pages did not see as much effect from the implementation, due to a broken reciprocal link on SOS-International (/what-we-do/family-strengthening), which has since been fixed.
This validated the necessity to have a reciprocal link that serves a working 200 code for the tags to be considered by Google.
We also validated that each alternate link must have only one designated reciprocal page for each language or country. Specifically, in our original implementation, the URL on SOS-International was mistakenly referenced by two pages on SOS-USA. 
Conclusions
While this process did take several months to complete and required a lot of communication between stakeholders; overall, the hreflang implementation was a success. Since deployment, donations to the U.S. site are up significantly YoY and the drop off in U.S. donations to the International site is nominal. U.S. Rankings have also improved on the SOS-USA site, while non-U.S. rankings for English phrases on SOS-International remain steady with some decreases in clicks on non-English speaking terms. This likely could be alleviated by implementing hreflang across their ccTLDs for other countries.
Finally, the testing helped correlate the following:
That hreflang can be implemented targeting one particular country by combining the native language of that country with the country tag, and then focus the other domain on just the native language of the content on the corresponding pages.
When hreflang is instituted properly on a domain with lesser page authority / domain authority, it can outrank pages on a domain with higher da/pa as long as the reciprocal pages are relevant. There are of course many factors at play, but the homepage and '/where-we-are' subfolder content are prime examples.