Time to Say Goodbye to Internet Explorer?
Yesterday, Mashable reported that Microsoft's Internet Explorer no longer claims more than 50 percent of the Web's traffic, a title that the browser has held for over a decade. The article, shared between the REQ teams in New York, D.C. and Boston, sparked an interesting debate that spiced up our Wednesday afternoon.

As Mashable noted, Internet Explorer is losing popularity due to the increased use of mobile and tablet devices, on which IE is practically absent. However, it still garners 49.6 percent of Web traffic, followed by Firefox (21.2 percent), Google Chrome (16.6 percent) and Safari (8.72 percent).

Nevertheless, the fall of IE comes as a victory for many Web designers and technology professionals. As Wired's Web Monkey notes, IE lacks 'small but significant creature comforts such as resizable text boxes, built-in spell checking and session restoration.' And it's not an infrequent occurrence to have to spend an hour convincing a client to consider browsers other than IE for their Web and mobile builds - others do exist and are gaining in users.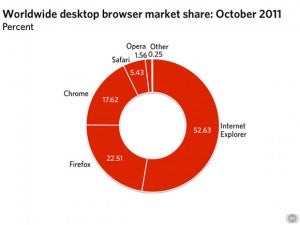 This graphic from webmonkey shows Internet Explorer holding 52.63 percent of the worldwide browser market share. This does not take into account the mobile browser market share, in which IE holds just .16 percent.
Our team's debate eventually settled around the data. Dan Katz, our director of social media and measurement, suggested that the 'geek market' likely influenced the data and that if the study factored in mainstream Internet users, that IE could likely account for more than half of Web traffic - due in part to the default installation of the browser on the still-dominant Windows operating system (OS).

Damien House, REQs senior software engineer, countered that average users are becoming more aware of alternatives and will no longer settle for their OS's default browser.

'A previously uninformed person (i.e. non-geek) will now adopt Chrome or Safari simply because 'Google = Internet,' or 'iPad = Internet,' rather than 'IE = Internet,'' said House.

To keep from fading into the sunset, Katz said that Microsoft 'must win mobile share to remain dominant in the browser market for the long term.' His proposal? 'Come out strong in 2012 with Windows 8 and[a] tablet offering.'

In the end, we can't totally discount (or stop designing for) Internet Explorer anytime soon.

We'd love for our readers and REQ team members to chime in. Do you believe that Internet Explorer will go the way of Netscape? Or do you think it can bounce back with new technology and creative marketing by Microsoft? Let us know in the comments!
---