Taking the Reins - How to Control Your Online Reputation
Benjamin Franklin once said, 'It takes many good deeds to build a good reputation, and only one bad one to lose it.' Although Franklin predated the Internet by almost 300 years, his words ring truer than ever now that our lives are documented so thoroughly - and so publicly - online. In our years of helping clients manage their reputations online, we at RepEquity have developed a sizable toolbox of tips you can use to bolster your reputation in the digital sphere. Here are some basics that can get your online reputation moving in the right direction.
Claim Yourself Online
Google looks for a wide range of diversified content to place on page one. The standard set of top ten search results across most disciplines consists of official website content, news stories, videos, social media profiles, and third party sites. Your goal should be to develop and curate content in each of those areas to give yourself a well-rounded online presence - and more ammunition to push out potential negative content.
Obtain Domains & Develop 'Flagship' Site
Claim your narrative online by obtaining all domains associated with you and/or your brand. We recommend purchasing them on GoDaddy.com, and purchasing the .com, .net and .org variations. Even if you are not actively utilizing these domains, claiming them prevents others from domain squatting, and also gives you the opportunity to define your own reputation online.
Flagship Site Development



YourBrand.com or YourName.com should be developed and launched.


Make sure that the site is optimized specifically for your name/company. It is important to include H1 title tags, meta descriptions, meta keywords, and alt tags. Here are suggestions directly from Google.
Microsite Development
We also suggest a secondary website that showcases your news/achievements. This can be any additional information about yourself that you would like to share: boards you sit on, charities you are involved with, extracurricular activities, content you have authored, or news about yourself and your company. Most often, we develop a news site for our clients, showcasing press releases, awards and positive news coverage. An example of this would be YourNameNews.com, YourNameInfo.com, or utilizing the .net, or .org versions of your official site. These sites help extend your online footprint and secure valuable positions in your top two search pages.
Profile Sites for Development
Below is a list of social media sites we recommend launching for yourself personally, and/or your brand. When launching each of these sites, make sure to utilize your primary keyword when signing up - this ensures that the auto generated URL will reflect the search term you are targeting. If given the opportunity to customize or choose a vanity URL, do so.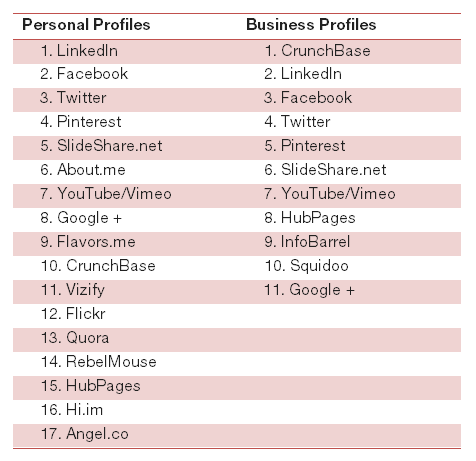 It usually takes a few weeks for these profiles to start appearing in your search results. To help increase their visibility, it is necessary to post content to these sites. It doesn't need to be high quality - there just needs to be activity.
Interlinking
It is important to interlink all of your social media profiles, and your websites. Most profiles give you the ability to list out your personal links; make sure you add each live profile. It's the interlinking that gives you real search engine power.
Authorship
Google's Authorship tag has been around for the past three years, serving as an effective way to connect numerous pieces of content online to a single digital signature/identity. The data from authorship also served as a valuable search ranking factor, and industry research pointed towards higher CTRs within Google for content tagged with the Authorship markup.

However, Google recently announced it would be abandoning the Authorship scheme. A consistent decline of rich snippets over the past year indicated Google's wavering support and potential separation from the current platform. Google has a long history of testing and tempering their ideas; many innovations pass by most users in beta without a glance. Success depends on adoption rates and user value, which, apparently, Authorship lacked.

Although this experiment has come to an end, we are certain that this is not the last you will see of Authorship. Google states they still have a strong interest in understanding author authority and the rumor mill is already turning out potential future ideas. We suggest being an early adopter of whatever comes next!
Engagement with Negative Content
When encountering negative press on a blog or a news site, the best rule to follow is to not engage. Rectifying a falsity may seem like the 'right thing to do' but in fact, retorting online has multiple ramifications. Commenting on a site can increase responses and refresh the content, making the site stronger and more visible within search engines. This also applies to review sites and message boards.
Have Patience
Lastly, success requires patience. It usually takes a few weeks for new content to index within search engines. It also takes time for websites and online profiles to gain enough strength to make it to the first page of results, especially if you're looking to displace negative content. But if you follow the tips outlined above, you'll be able to take the reins and move your online reputation in the right direction, drawing attention to your good deeds and minimizing the rest.