REQ Headlines General Assembly "Mornings are for Marketing" Panel
REQ and General Assembly DC are partnering to present three panels as part of the Mornings are for Marketing series, a morning mastermind session created for the marketing community to get together and share wisdom. The informal event gives attendees the opportunity to build relationships with other marketers, discuss trends in the industry, and share ideas about the ever-changing marketing landscape.
Featuring REQ team members Eric Gilbertsen, Kenny Rufino, and Amanda Wilson, the session focused on the importance of strategy, design, and content when building a brand. Although discussion was broad in scope, each panelist drew on their unique experiences and case studies to share practical takeaways with the audience of up-and-coming marketers in the DC area. Attendees ranged from developers and nonprofit communications managers to marketing directors for local tech start-ups.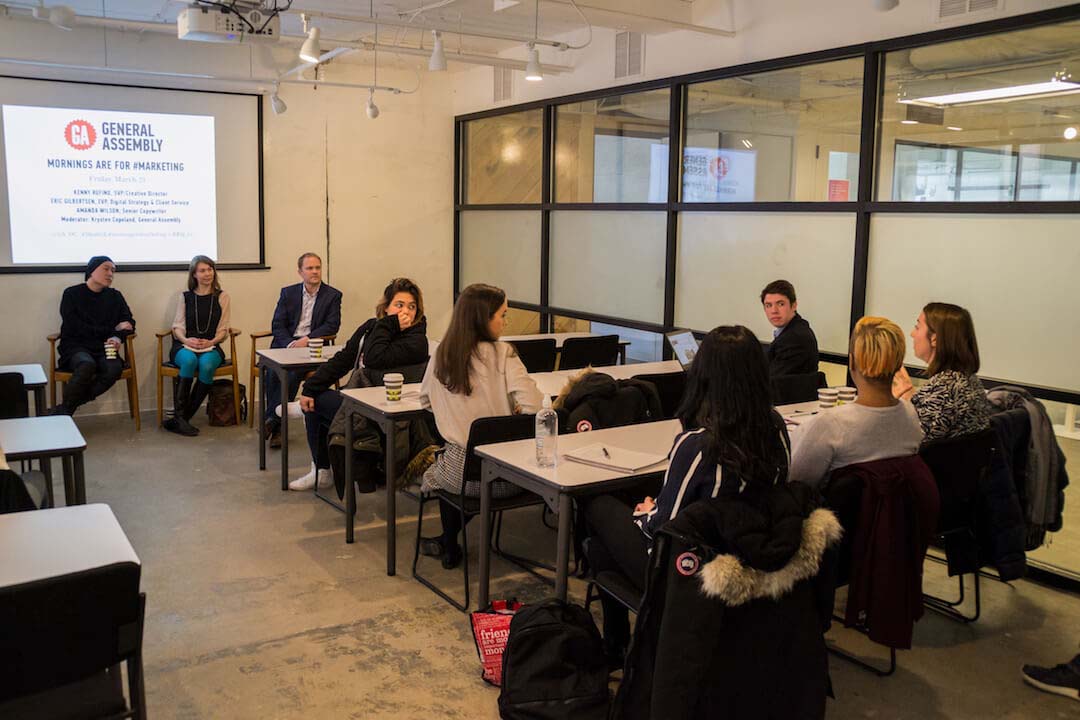 Here are some highlights:
The power of brands:
Brands are just as much internal as they are external. For example, how people feel when they come to work and perform is part of a brand.

Brands that are unwilling to adapt run a huge risk of being left behind and overtaken by competitors.

Digital and in-person experiences can co-exist. You don't need to choose between only a website or only a store. You can merge digital and in-person journeys, and create delight along the way to have the brand be the experience.
Understand audiences to tell brand stories:
Many businesses fail to deeply understand their audience. That is why discovery and research are so important, and the tools available today make it easier than ever to gain insights.

People love a good visual, but you need to look at how you're telling the story. Taking a picture of a burger with some hashtags isn't going to do it.

When we say content, we really want to talk about storytelling. If you don't know your audience and who you are as a brand, it will be difficult to tell your brand story or create a content strategy.]
Expanding your network and seizing opportunities:
Be brave. Engage. Go to events by yourself and strike up a conversation. Networking can happen anywhere doing anything.

We need to think boundlessly. Collaborating is the best way we can provide the best work for clients and continue to be inspired.

Do you have a distinct point of view? To have a sense of self - who you are - is significant because it can affect the work that you do. Are you willing to commit to yourself?
Members of REQ's talented team will speak during two more Mornings are for Marketing sessions at General Assembly. Learn more about upcoming events here.