How to Use Google My Business to Keep Your Customers Informed of COVID-19 Updates
If you own or manage the online presence for a local business, one of the best ways to keep your customers up-to-date with the latest status of your operations via search is through Google My Business.
Once you have claimed and verified your business, you have access to managing key business information such as your address, hours of operation, photos, reservation links, and more.
With local businesses assessing and adjusting to the impact of COVID-19 on a daily basis, here are a few of the ways to give customers searching for your business the most up-to-date information related to your operations and available services.
Make Sure Your Attributes are Current and Accurate
Attributes are features or services that your business offers that your customers should know about. Some examples of attributes include: wheelchair accessibility, free WiFi, and types of payments accepted.
Making sure that your attributes are up-to-date is a good way to make it easy for your customers to quickly find out whether you offer delivery and/or takeout services, for example.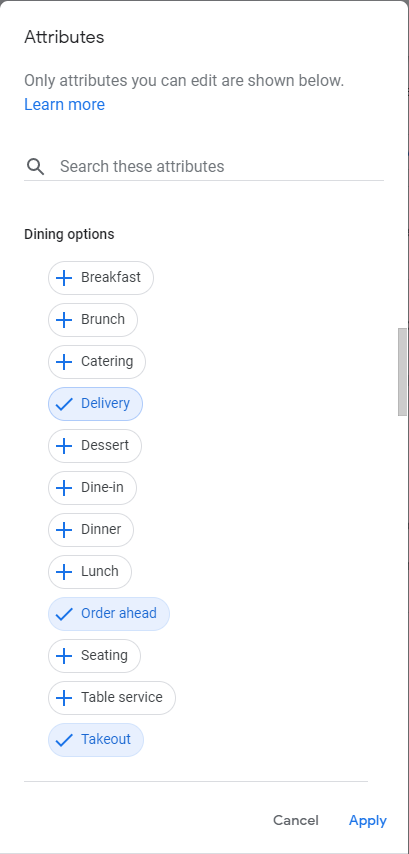 Google Posts
Google Posts are a feature for businesses to publish content directly in search results pages. Google Posts display in a business' knowledge panel when a user searches for a business directly by name or when they click on a business in maps.
If your business is operating in an adjusted or reduced capacity, Google Posts can be a good way to directly communicate the up-to-date status of your business' daily operations with your customers. Some examples of status updates that could leverage Google Posts would be:
A restaurant that is still open, but only receiving call-ahead takeout orders
A grocery store with reduced hours and/or special hours for seniors or other high-risk groups
A therapist still offering sessions via teleconferencing
In addition to general updates, events, and offers, Google My Business has recently added a COVID-19 post-type for businesses seeking to provide customers with the latest information related to their operations due to Coronavirus developments.
Unfortunately, at the time of writing this article, Google Posts are still not available in Google My Business for hotels, resorts, casinos, and other gaming establishments. However, qualified outlets within these establishments should still have access to them. For example, a spa or restaurant inside of a resort would be able to utilize Google Posts.
For these businesses that do not have access to Google Posts, an alternative means of relaying your status could be temporarily updating your business description to convey what your business is doing in response to COVID-19. With your Google My Business access, you can update this information at any time to revert to your general business description when normal operations resume.
Update Your Hours of Operation or Mark Your Business Temporarily Closed
If you are experiencing special operating hours as a result of COVID-19 or have had to temporarily suspend operations altogether, there is an option to make those updates in Google My Business.

According to one Google My Business Gold Product Expert, you should use special hours if your operating hours will be impacted for a period of two weeks or less.
Just last week, Google My Business also added an option to mark your business as temporarily closed if you are ceasing operations for a more indeterminate period of time.
Final Thoughts
While information related to COVID-19 is developing on a daily basis, customers are turning to search to find the most up-to-date information related to the businesses they frequent and/or deem essential. Using these tools can be a good way to stay connected with easy to access data related to how you can continue to serve and support them, while also giving customers clear communication regarding how they can continue to access and patronize your services during this time.