How to Leverage Facebook Groups for Business
As the leading social platform with more than 2.45 billion users, Facebook is a social networking force to be reckoned with. One of the fundamental building blocks of Facebook was to bring people closer together and build relationships. In recent years, Facebook has placed a strong emphasis on "meaningful interactions." With a strong desire to focus on community and creating meaningful relationships, Facebook is making a push for higher user engagement. Where is the best place to find high user engagement? Facebook Groups.
"People want to be a part of meaningful communities… In a community, you can meet new people who share your values – for some, this might be a support group for new parents. For others, it might be about a disease you have. For others, it might be about finding people to come together and volunteer."

– Mark Zuckerberg
What Does Facebook Consider a "Meaningful Interaction"?
The days of using 'engagement-bait' posts to goad people into commenting are gone and Facebook warns to continue to demote these posts in News Feed. According to Facebook, they are prioritizing posts that spark conversations and meaningful interactions between people. But what does that mean? Facebook says that posts that "inspire back-and-forth discussion in the comments and posts that incite users to share and react" will be given priority. (Think someone seeking advice and recommendations or sharing an article that prompts discussion.) 
What Can Businesses Do To Create "Meaningful Interactions"?
If higher engagement is the ultimate goal and meaningful interactions are the means to getting there, what can brands and businesses do? Facebook's 2018 News Feed algorithm changes have made it so reactions, comments, and shares get priority over passive actions like clicking the "Like" button. This shifts the focus to the type of content users post, as one of the top new ranking signals. Outside of regularly posting content to a business page, Facebook offers two interesting insights on success for businesses to create more meaningful interactions.
Use Facebook Live Video
While it's no secret that video content tends to yield high performance on social, there's a clear distinction between video content and live video content. Facebook live videos get six times as many interactions and ten times more comments than regular videos. Why is live video more engaging? When you go live, you give your audience a chance to interact directly with you via likes, comments, and questions. The shift goes from watching to participating. Live video is also more authentic, which is helpful in humanizing your brand.
Harness the Power of Facebook Groups 
According to Adam Mosseri, Head of News Feed at Facebook, there will also be a heavier focus on group content. Facebook Group content tends to inspire a lot of conversation because people tend to interact around public content. It gives local businesses a chance to  connect with their communities by posting relevant updates and creating events, which can be helpful in creating a meaningful interaction.

How To Use Facebook Groups for Business
93.7% of businesses use Facebook which means there's a lot of competition. An increase in competition on social media has led many businesses to look for ways to stand out above the noise. Facebook Groups membership is up 40% from last year to 1.4 billion people. That means over half of Facebook's user base is using Groups every month! This presents marketers with a remarkable opportunity to leverage existing Facebook Groups and create a Facebook Group of their own.
In case of any confusion, a Facebook Group is NOT a page. Facebook pages and groups differ in functionality. According to Facebook, "a Facebook page is designed to be the official profile for entities, such as celebrities, brands, or businesses while Facebook Groups are the place for small group communication and for people to share their common interests and express their opinion." In other words, pages are for people, brands, and businesses. Groups are for passions, causes, and interests.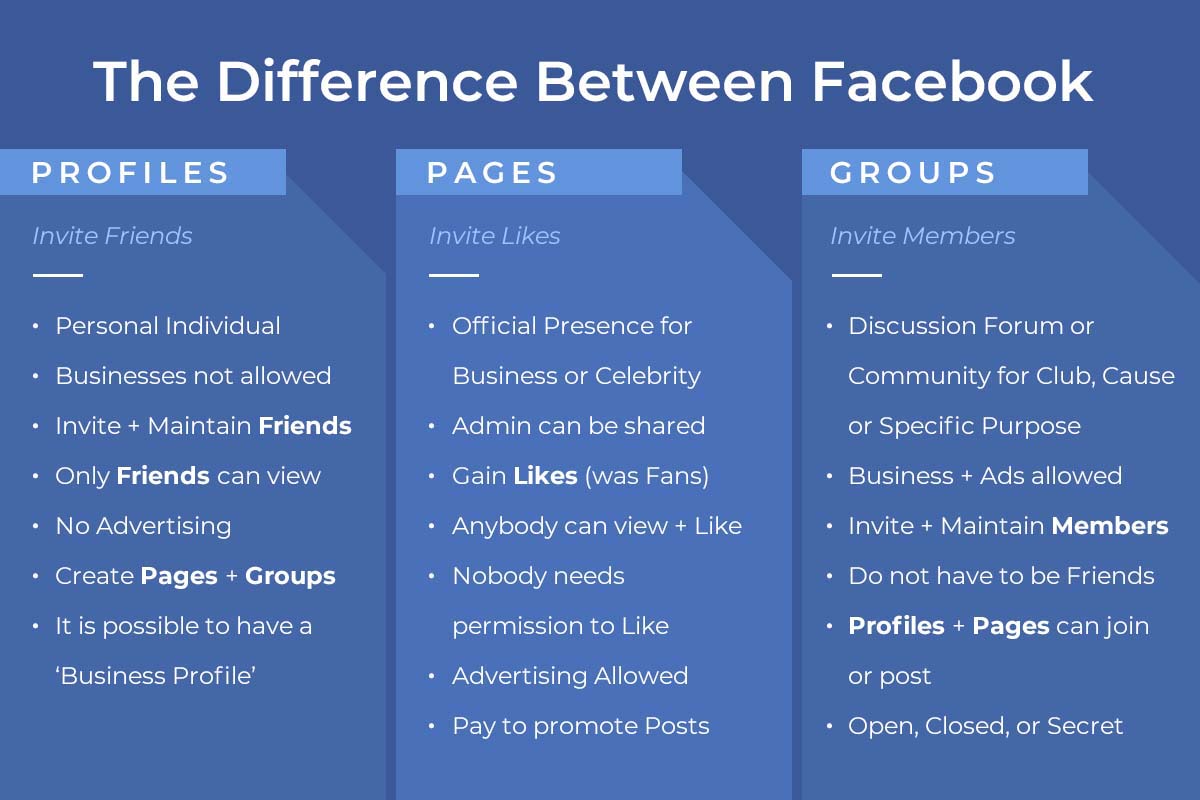 How To Leverage Existing Facebook Groups for Your Business
Perhaps the easiest way to leverage Facebook Groups is to search for groups that are relevant to your brand. For example, if you're a fertility clinic, you could search for infertility support groups. If you're a hotel, you could search for a travel group. People tend to join groups around topics they're not only interested in, but passionate about. Mix passion and interest together for a brilliant recipe that is certain to increase engagement. Meaningful interactions have the tendency to compound, allowing the Facebook algorithm to work its magic for you. The more interactions that occur tells the algorithm that this is content people want to see, therefore expanding its reach for more people to see it and join in.
Facebook Groups offer a wide variety of topics and ranges in size, but certain aspects make them very advantageous for brands. If your business joins a Facebook Group, it's entering into a subset of the population that is already interested in a specific topic and the work that your business may be doing. While it may be tempting to use Facebook Groups as another way to sell your brand, this will likely backfire and potentially cause you to get kicked out of the Group. People don't want to be sold to, they want to be educated and informed. So instead of being self-promotional, position your business as a resource and an authority in the space. Think industry forward over brand forward, where your knowledge and expertise is more valuable than the product or service that you are selling.
What to Post in a Facebook Group 
When you join a Facebook Group, you'll notice that there's a ton of conversations going on, many of which originate with an initial question from a user. Search through the Group page to locate some questions that are relevant to your brand or business. This can give you a chance to offer up your expertise or specialized skills. Options for meaningful interactions include:
Provide a solution by answering the question outright. 
Share a link to one of your blog posts to provide insight to the question.
Offer your own products and services (without being salesy). 
This highly targeting form of marketing can be quite powerful if used correctly. When you provide value to the members of the Group, you start to build trust which is instrumental in developing a relationship. Garner Group members trust by providing solutions outside of what your business can offer, and your brand will start to become a resource to the group. People may begin to come to you for answers by tagging you directly in comments!
Don't overlook the tremendous value of Facebook Groups that doesn't involve engagement. Facebook Groups are a great place to conduct research on your target audience. By reading through the interactions you can gain valuable insight into what your target audience is looking for. Use the comments, thought processes, and questions that Group users discuss to create original content for your potential customers.
How to Build a Community Through Facebook Groups for Your Business
Does increasing traffic to your website via Facebook without spending a penny on ads sound good to you? A well developed Facebook group can be a marketer's dream. Facebook Groups can offer a captive audience that is active and engaged in learning more about a space that your business can offer a solution to, for free! Building a community is the biggest priority after creating a Group for your business. Whether you're starting from scratch or in the process of growing, ensure you're making the most of your Group by following these simple tips.
Set clear rules and guidelines. Clear rules often translate to meaningful conversations. For starters, ask yourself: what are your goals for this Group? What kind of content do you expect members to post? Do you want to enforce interaction guidelines? At the very least, set boundaries to limit spammers that self promote and link drop. Nothing stops free flowing conversations like spammy behavior. Facebook allows 10 public rules for every Group and suggests including rules like:

Encouraging positive comments, feedback, and conversations
Taking a firm stance on bullying and hate speech
Outlawing spam and irrelevant links
Respecting the privacy of fellow members

Prioritize and foster daily discussions. The more conversations, the better. If you find it challenging to post regular content, encourage members to share their content or stories.
Keep your Group closed. Nothing fosters the desire to be included quite like the idea of exclusivity. Requiring members to be properly vetted to join Closed Groups reinforces the notion that your Group is an exclusive club, where only members can access secret content and offers. The more tight-knit of a community, the higher the quality of discussion.
Avoid salesy posts. If authentic, meaningful interactions are the goal, salesly and self-promotional posts achieve the opposite. If this isn't obvious by now, start reading again from the beginning.
Optimize, optimize, optimize. Best practices tell you to optimize your website and your social channels, so why would you not optimize your Facebook Group? Cover your bases to ensure everything is where it needs to be.

Use eye catching imagery on your profile and cover photos. 
Employ clear calls-to-action.
Fill out Group information as clearly as possible so you can allow others to find you. 
If you haven't yet, discover the keywords your audience may be searching for. 

Experiment with different types of posts. Plan for success with a social content strategy.  Search for common pain points in conversations and find ways to discuss them more.

User-generated content (Utilize your members!)
Video (Upload or go live!)
Interactive content (Polls and questions)
Images (Photos, memes, infographics, GIFs)

Promote your Group on social media. Promote your Group on all social media channels, not just Facebook! How can members join if they don't know it exists? You can also send a direct invite to join your Facebook Group in an effort to build your community. 
Mention your Group in similar Groups. Act with caution on this tip. Coming off spammy in order to help your own Group or business is one the quickest ways to find yourself kicked out of a Group. Be sure to position your Group as another resource (not a competitor) to similar groups. Perhaps someone asked a question that was answered brilliantly in your group. Use research and be solution-oriented when mentioning your Group in similar groups. 
Focus on girl power. According to Facebook, women are 40% more likely to create groups that become meaningful to people. Take note, females! Use this as leverage over your male counterparts.
While there are a multitude of ways to increase engagement and meaningful interactions on Facebook, Groups are a prime tool that can transform your brand from being reactive to proactive. Not only are Groups important for brands to interact directly with consumers, they also foster trust in that brand. Seeing a brand engage in an open dialogue via an online social forum allows your brand to be industry forward rather than brand forward. Most importantly, Facebook Groups allow your business to be as close to the consumer thought process as you can be, all while learning and addressing the concerns of your next customer.