Help Every Mother Counts Build Clinic for Indonesian Mothers

In 2010, we were proud to help Christy Turlington Burns create and launch Every Mother Counts, a campaign to increase education and support for maternal and child health. Coupled with her documentary, No Woman No Cry, the campaign is helping to create positive change around the world with better health clinics, medical supplies, transportation in remote areas, midwife training, and more.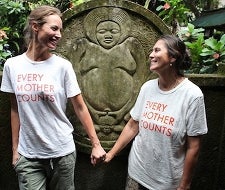 This holiday season, help Every Mother Counts build a much-needed clinic for mothers in Indonesia. Donate through the Crowdrise Mozilla Firefox Challenge. The organization that raises the most wins $25,000 toward their cause!
You can also help by purchasing No Woman No Cry on DVD and hosting a viewing party to spread the word.