Google Rolls Out Two New Targeting Options for Search
Google has recently announced the introduction of two new audience targeting options. In order to better help you capture higher-intent customers, affinity audiences and seasonal event segments are rolling out this October. Available for both Search and YouTube campaigns, it will be interesting to see how effective these are compared to the already existing targeting options within the Google Ads platform.
Affinity Audiences
While affinity audiences are nothing new (Facebook, Display Network, Video Campaigns), they now make their appearance on Google Search for the first time. These audiences are created based on a user's interests and habits so you can now layer these affinity audiences on top of your keywords for a higher level of intent. For example, you might sell gaming headphones or headsets so you target generic terms like "headset" and layer on an affinity audience of people who have shown interest in video games. Utilizing this targeting, in theory, would lower your CPCs (Cost Per Click) and help improve your CTR (Click Through Rate) due to the increased relevancy. You can also use the Affinity audiences for observation as opposed to targeting.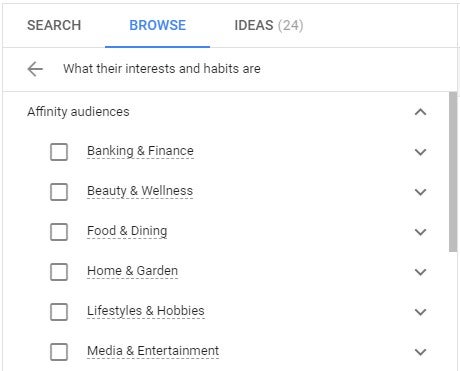 Source: Google Ads Affinity Audiences
Seasonal Event Segments
Google has also added a twist on in-market audiences this season with an in-market seasonal event segment that you can add on top of your Search and YouTube campaigns. Those who are predisposed to purchasing your product or service (either through defined audiences or keywords) can now be further qualified with Seasonal Event Segments like Black Friday and Christmas to reach active shoppers. Once again, this will help you hone in on your desired audience for your ads effectively increasing your conversion rates and improving cost per acquisition and/or return.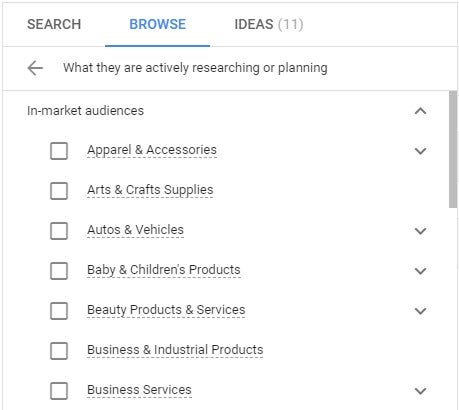 Source: Google Ads In-Market Audiences
Our PPC experts stay at the forefront of Google Ads updates and test new features to improve the performance of our campaigns across a wide variety of clients. Interested in discussing strategy? Connect with us to learn more!