Google Analytics Settings are Changing. Don't Be Caught Off Guard.
Google has a set of newly established settings to help you specify how long your user-level and event-level data should be stored by Google Analytics. They're called Data Retention Settings and the default action is to expire (delete) your detailed data after 26 months. Aggregated (summary) data is unaffected by this change.
The default is likely more than sufficient for most reporting scenarios but there are situations in which you might want to reduce or extend this timeframe.
You should extend this timeframe if you want to use the Google Analytics interface to provide detailed data for more than two years in your reports. We rarely need reports from Google Analytics beyond two years, so extending the default may not be necessary in most instances.
For those situations in which you do want to retain data on individual usage scenarios and actions for longer than two years, it is easy to go into the Data Retention Settings and extend the period.
Google is implementing this change on May 25, 2018. The settings can take up to 24 hours to take effect. This means it is important to adjust these settings prior to May 24, 2018, to retain existing data.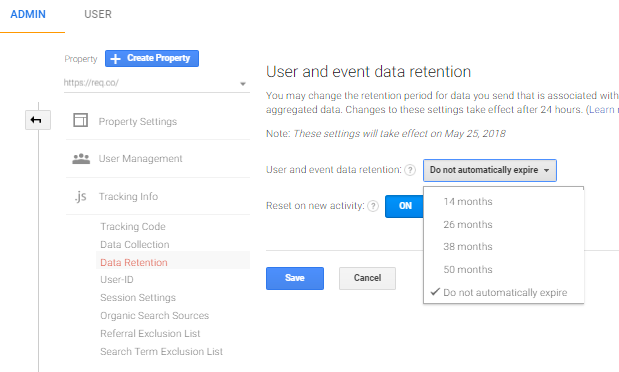 Why Would I Let Data Expire?
Data expiration is important to support end-user privacy and is an element under the European Union GDPR. And while Google Analytics does not permit the capture of personally identifiable information (PII) the elimination of user-level path data, even if it is unassociated with an identifiable individual, is supportive of the spirit of the GDPR.
What Alternatives Do I Have?
It is easy enough to set the Data Retention timeframe to Do Not Automatically Expire. Under that setting, nothing will expire in Google Analytics. We expect this to be the most commonly used setting scenario. Alternatives include the exporting of data from Google Analytics into other tools. Google Sheets, SuperMetrics, Tableau, Microsoft BI, and many other business intelligence tools connect to Google Analytics as a data source. This enables the extraction of a wealth of data. Be sure that the storage and retention of this data complies with your privacy policy and GDPR compliance rules.
You may also elect to use an alternative analytics package that offers more control of your data. REQ frequently utilizes Matomo (formerly PiWik), which provides no limits to data retention and supports storage of data within our own databases. We then ensure data is archived or deleted based upon clients' data retention and privacy policies.
The Future
Google's move to provide the ability to expire data is not unexpected. In fact, it's quite similar to the practices of other analytics frameworks such as Adobe Analytics. Expect to see similar policies being put into place by any service that collects and measures individual user data and traffic information.
Read more Google Analytics Data Retention at: https://support.google.com/analytics/answer/7667196?hl=en