The battle for second place in the search world has been heating up in past months. According to recent statistics from comScore, the two are now tied for second with both holding 15 percent of the search market. By comparison, Google has a 64.5 percent market share.

Twitter awarded Wendy's the 2011 'Golden Tweet' award, meaning the fast-food chain had the most retweeted message of the year. The tweets were part of the bigger Wendy's Wonderful Kids program. See the winning message below - Did you retweet it?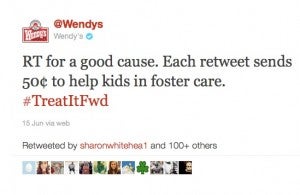 Have you ever thought about who owns the content your read, watch and listen to every day? Due to huge consolidations in the past 28 years, just six companies control 90 percent of media we consume. Who? GE, News-Corp, Disney, Viacom, Time Warner and CBS.

A recent tweak to the layout of Google's results pages had the Google +1 buttons disappear as a measure to clean up the display, as noted by Google Operating System. The button will appear when a user overs over a search engine entry.

If you could choose your seatmate on your next flight, would you? Air France KLM is hoping you would. Next year, the airline will launch a feature allowing customers to choose their seatmate based on friends or common interests using Twitter, Facebook and LinkedIn. TechCrunch has more on the 'meet & seat' social seating tool.

This week, Google released its 2011 Zeitgeist video detailing how the world searched in the past year. Prepare for awesome.