Empathy and the User Experience (UX)
User experience (UX) is the subjective emotional reaction by an individual to a product, system or service. UX design takes into account all the human factors that lead to those reactions, and results in a better mobile or web experience for users. The goal of UX design is a satisfied user. Does the user perceive the value and truly connect with the product or brand?

UX design requires us to understand our audiences' motives, values and preferences. So where does empathy come into play? Empathy is one component of UX design that enables us to approach our work from the audiences' perspective. Through empathy, we come to a deeper understanding of the needs and viewpoints of our clients and their audiences - factors that drive important strategic decisions. In a user-centric approach, specific UX techniques are used to infuse empathy as we define the primary user segments for the project.
Empathy Mapping

One such technique is empathy mapping, a UX analysis tool originally created by David Gray of XPLANE. Empathy mapping is an imaginative process in which we step into an audience's shoes to tell the story of a particular user segment we want to reach. The result is a detailed personage - an actual artifact - that influences decisions throughout the design and development process. Artifacts make an audience tangible.

An empathy map template is shown below. There is a face in the center of the map, which represents the user and can be personalized in the exercise to get closer to your audience. As we imagine a day in the life of our audience, we note what the audience thinks, feels, hears, sees, says, does and maybe even wants, documenting those factors on the empathy map. Based on this information, we develop a specific profile or description of our audience.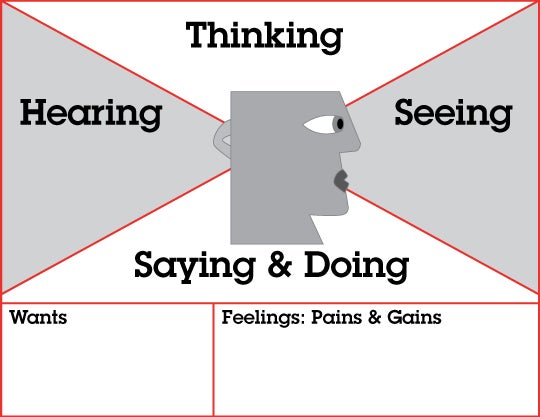 Empathy maps lead to improved user experiences and apply to almost every audience and project, as reflected in our work. Through this process, we confirm or expand the client's understanding of their audience definitions and create opportunities for deeper, more meaningful connections.

Source: Empathy Mapping on gogamestorm.co