7 SEO Trends to Have on Your Radar in 2019
Already a month into 2019, an overarching theme that we will see throughout the SEO industry this year is an emphasis on user experience (UX). Google's primary goal is to provide users with a great experience and to display sites and content in the search results that best align with that goal (i.e. providing users with the best possible and accurate answers to their queries).
If you are familiar with the search industry, you will find that some of the 2019 SEO trends that we've outlined below are not necessarily "new," but they continue to be weighed heavily by search engines like Google and industry leaders.
As the year goes on, keep an eye out for these trends that we expect to impact the SEO industry and the way in which we conduct and implement strategies:
Content is King…Still
While the importance of offering site visitors quality and engaging content that provides value is not a new trend when it comes to SEO, Google's 2018 algorithm updates directly reinforced the fact that creating great, comprehensive, and trustworthy content continues to be top of mind for the search engine as it evaluates web pages to rank in the search results in 2019. 
Some of Google's 2018 algorithm updates, like the core update that took place in March, indicated that the search engine has become increasingly smarter when it comes to determining what it believes to be "quality" content. After the March update, sites that may have lacked in domain and page authority experienced boosts in the results if their content was better and more comprehensive than sites that previously ranked above them.
While we shouldn't discount links and site authority completely, we expect to see a larger shift to the actual quality of the content when it comes to ranking successfully in Google.
But what is considered "quality" content?
When building new content for your site this year, you should think about the user first and then move on to more technical optimizations. Before publishing a blog post, ask yourself the following questions:
Does this content offer value, answer a question in full or solve a problem comprehensively?
Does this piece of content move people or motivate and inspire them to take an action? 
Does this content go beyond what has already been published online?
If the answer to any of the above questions is no, then go back to the drawing board and come up with something that can answer these questions.
Content is fundamental when it comes to search. It is the backbone of SEO as it is what actually ranks. In 2019, sites that lack in the content department—from the amount to the quality—will not be able to compete successfully in the search results.
Sites Need to E-A-T to Live
Right before the Medic Update (August 2018), Google released an updated version of its Quality Rater Guidelines which included a larger emphasis on expertise, authoritativeness, and trustworthiness (E-A-T) signals.
In the guidelines, Google states that E-A-T is among the top three considerations for page quality. In short, the level of E-A-T that a website displays can determine its value. When evaluating sites, quality raters are looking to see if the site's content meets their standards:
Expertise – Display and mention the skill of the author of the site content. Another way to show expertise is by having content that is truthful and beneficial to site visitors.
Authoritativeness – Exhibit that you or the author of the site content is an authority on the topic. Listing credentials and accolades is important but so is having good reviews off-page.
Trustworthiness – Show visitors that they can trust your site and your content. One easy way to display trustworthiness is by implementing an SSL certificate on your site.
Sites that offer a great user experience and useful content that is expertly written and referenced by other, authoritative sites will receive a high quality rating. Sites that do not have a clear purpose or benefit to users, offer a poor user experience, or share content that misinforms or deceives users will receive a low quality rating.
Quality raters also go beyond the site itself when evaluating E-A-T. Reputation plays a bigger role now as raters are looking to see how other people and sites are talking about your site, company, brand, products, etc., online. Are your Yelp reviews positive? Are people contradicting what you say on your site? Do other sites reference your content?
While the guidelines are used by Google's Quality Raters (third-party individuals) rather than the algorithm itself, they do give insight into the direction Google is likely heading. E-A-T signals may ultimately impact the way Google perceives and ranks sites. 
In 2019, it is important to not only make on-page changes to improve E-A-T but also make off-page improvements like building a reputable presence online.
Understand User Intent & AI
Google has become increasingly sophisticated when it comes to tailoring the search results based on what users expect to see for a search term or phrase. In addition, with the help of RankBrain, Google turns search terms into concepts in order to identify and deliver content within search results that fully covers that concept.
Google understands that the most useful content for a searcher may not necessarily include their exact search term or keyword, so it is going beyond keywords to decipher the searcher's intent and deliver relevant topics rather than relevant keywords.
For example, if I search for "tv show about plane crash on island" Google will likely understand that I am asking about the popular television series, Lost, not about pages optimized for the keywords "tv show", "plane crash", and "island".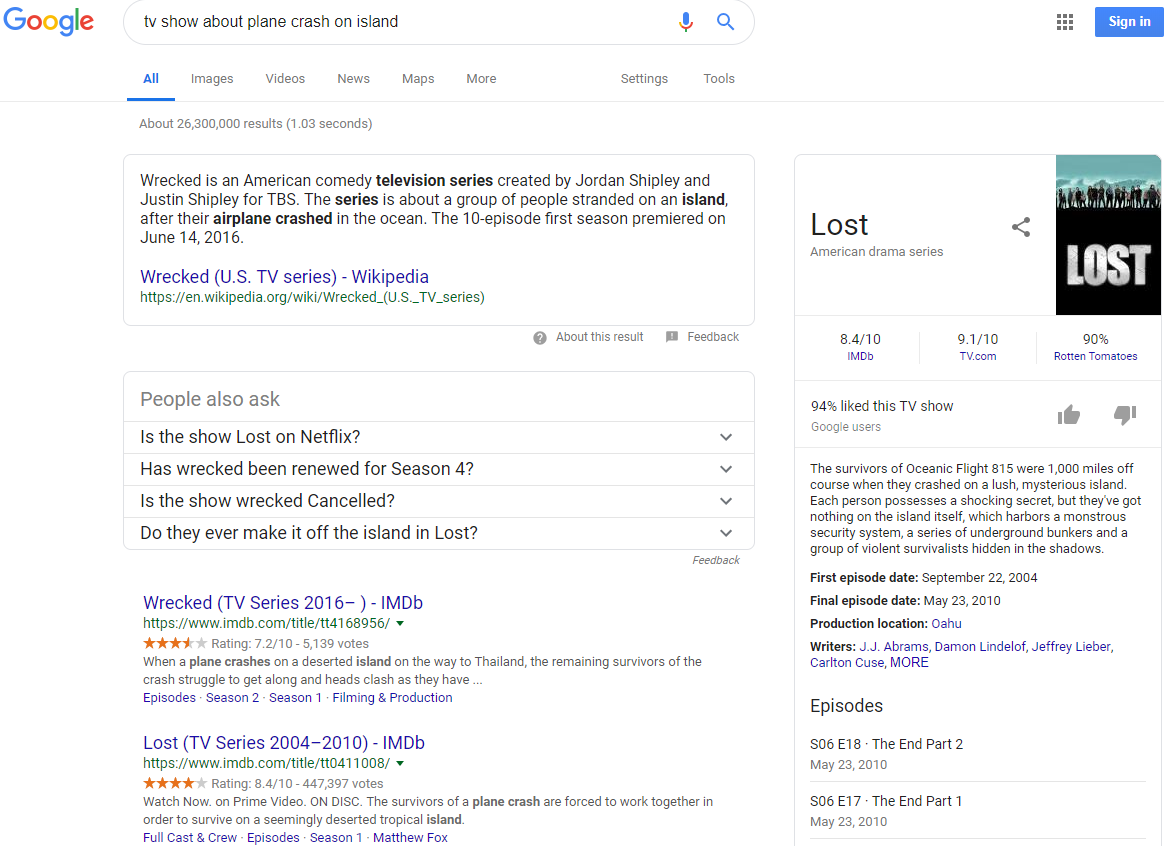 Search marketers should look beyond keywords and stop chasing top rankings in the search results. While a top 3 search position is great, if a site page is optimized for the wrong audience and doesn't match user intent, your efforts will not reap the benefits—and will likely lead to higher bounce rates.
We must have a better understanding of user intent, so we can choose more strategic keywords to target which may require changes to our keyword research processes. Before adding a new target keyword to your list, it's important to analyze the type of sites and content that are currently ranking for that keyword. Are sites like yours ranking or are you seeing review sites and directory listings in the top 10? Depending on what you see and what type of site you have, you may want to pass on that keyword.
If you understand what a user is looking for when they search for a keyword, you will be able to build your content in a way that comprehensively answers not only their original query but also related, follow-up queries in full (think People Also Ask questions in Google). Anticipating and fulfilling users' needs makes for a better user experience as they don't necessarily have to return to the search results to make a follow-up search to gather more information.
In 2019, Google's shift to better match search results to the user's intent of a query will impact SEO. As search marketers, we must shift our focus as well and look beyond keywords and outdated ranking factors to recognize the types of content that Google considers relevant for our target keywords.
Huge Jump in SERP Features
A search engine results page (SERP) feature is any result displayed in Google that is not a traditional organic result. They can offer a better experience for users as they reveal far more information up front with greater relevance to match searcher intent.
Since the beginning of 2018, the presence of SERP features has not only increased rapidly but it has also evolved considerably. For example, according to the MozCast Feature Graph which tracks changes in major SERP features over time:
In January of 2018, related questions appeared for 30% of searches but by October 2018, that percentage rose to nearly 60%
Last September, Google started to show more pictures and videos in the search results designed to make visual information more useful to users as pictures and video become more central to the internet experience. As a result, the percentages of video and image carousels in the search results increased significantly; video carousels rose from 10.7% to 24% and image carousels increased from 14.1% to 20% towards the end of 2018.
As search marketers, we need to be cognizant of the type of SERP features appearing for our target keywords and consider building our on-page SEO—think schema—and content strategies around the particular SERP features. We must also remember that Google is constantly testing and switching out different SERP features and the content that it chooses to display, so it is important to closely monitor the SERPs and adapt strategies accordingly. 
Voice Search is On the Rise
It is no surprise that voice search has gained considerable ground throughout 2018 and continues to rise as we live in an increasingly voice-driven world. Take a look at some of the recent voice search findings:
Since 2008, voice searches performed in Google are up by 35x
More than 40% of adults perform one or more voice searches a day
20% of all searches on mobile are voice searches
It is projected that 50% of all searches will be voice searches by 2020
It is evident that voice technology is a major shift in the way in which users gather information. Fewer people are typing queries into search engines and more are relying on their mobile and voice-activated devices (i.e. Cortana, Alexa, Siri, Google Home, etc.) to find what they are looking for online.
Voice search is also leading to a shift in the way we conduct keyword research and optimize site content. Over the last 20 years, SEO has always been thought of as keyword driven, but with the rise in voice search and user intent, SEO is becoming more natural, conversational, and questioned-based. As a result, we are seeing more question-answer content and well-optimized FAQ pages in an effort to leverage this trend. 
While there is still much to be discovered when it comes to the content being used for voice search answers, optimizing for voice search appears to be similar to the way we optimize for featured snippets. In fact, 4 out of 10 voice search results come from featured snippets. As voice continues to grow, it is safe to say that voice search optimization will require more research and analysis in 2019.
The Need for Page Speed
As an industry trend, Google is focused on and committed to serving faster sites in the search results. While not necessarily a "new" trend, site speed has remained top of mind in 2018 and will continue to be heavily weighted in 2019 as it is directly tied to user experience.
There is no arguing that a slow site makes for a poor user experience and that a site that takes more than 2-3 second to load is more likely to lead to higher bounce rates. Depending on your line of work, a slow site can have serious implications for a business. In a recent study conducted by Skilled, researchers found that:
79% of users are less likely to return to a site if it is slow
64% of smartphone users expect a website to load in 4 seconds or less
47% of online shoppers expect webpages to load in 2 seconds or less
Now that Google is more closely monitoring the way users interact with the site pages that it displays in the search results, it is more important than ever to lower bounce rates. And your first step should be to look for ways to improve the amount of time it takes for your site pages to load on both desktop and mobile.
Living in a Mobile-First World
In March of 2018, Google began rolling out its Mobile First Index. Now that mobile search has surpassed desktop search (mobile makes up over 52% of global search traffic), Google refers to the mobile version of a site's content rather than desktop when it comes to building its index and ranking sites. While the desktop version of a website still plays a role, the mobile experience now takes priority in Google.
With Google's growing focus on mobile, webmasters should design and build new sites for mobile-use first and then expand the desktop version. They should also ensure that the mobile user experience is as good, if not better than, the desktop experience—specifically when it comes to mobile page speed—which Google confirmed was a mobile ranking factor when the search engine rolled out its Mobile Speed Update last July.
Google understands that mobile searchers are on the move and need immediate answers when they are conducting a query. To meet the expectations of mobile users, site pages need to load in less than 3 seconds.
With that in mind, many sites are turning to Accelerated Mobile Pages— "AMP" for short—to serve their mobile content. Pages built in AMP appear at the top of the mobile SERPs and they load in an instant thanks to a very stripped-down version of JavaScript. In fact, some webmasters have taken full advantage of this technology by building their entire sites in AMP.
Today, AMP powers over 4 billion webpages and 25 million domains and we will likely see these numbers continue to increase in 2019.